Little Man's #OOTD – My Rocking Kids
I have 2 children, a girl aged 10 and a boy aged 1. I still have a small influence over what my daughter wears and she has a very similar taste in clothes to me anyway. But with my mini man, I get to put him in whatever I like and he has no choice! Mwahaha (evil mum laugh).
I love anything a little alternative, as I am myself, so one of my favourite outfits of his at the moment is this-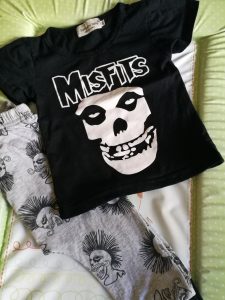 His Misfits t-shirt and jogger set which is just gorgeous! It's from a website I found advertised on Facebook called My Rocking Kids. I will say, the reviews I found weren't great about the delivery time. Their website does explain that the products are posted directly from their supplier though, in China.
I'm quite used to ordering things from China so I know the delivery times can be shocking. If things get stopped at customs it can take even longer! (I used to sell jewellery and a few of my parcels were intercepted as they're checking for counterfeit goods).
Chinese clothing can also be a little on the small side. Because of this, I made sure I ordered a bigger size. He's slowly growing out of his 12-18 month clothes now anyway.
It turned up within 6 weeks which is quite standard for China shipping. The material was a bit thinner than I was expecting so I'm glad I bought it to go as part of his summer wardrobe. It's lightweight so perfect for hot days where he still needs to be covered up.
He looks bloody adorable in it though! (Even if I do say so myself)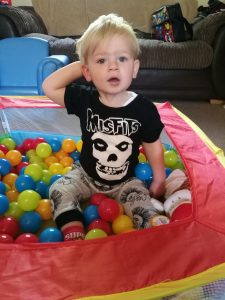 The care label does say they should be hand washed. Anyone with kids will tell you that's just not viable! I haven't got time for handwashing so they have been through the washing machine (twice now) and line dried. Amazingly, they have held their shape just fine. I've had Mothercare clothes that have shrunk and misshapen after 1 wash so the material seems pretty hardy.
I'm definitely keeping an eye on the website for more outfits and I have seen another couple I want to get him. You can find them here –
https://www.myrockingkids.co.uk