Taco Salad Bowl – With Edible Bowl!
It's summer which can only mean one thing…. Salad season! I would honestly eat salad and rice every day when it's hot. A Taco Salad Bowl is probably my favourite way of having salad though and my 4 year old is now requesting it every week! Only issue is, he doesn't eat salad. We do manage to get him to eat some bits though.
I think the main fascination with the Taco Salad Bowl is the fact you can eat the bowl!! It is definitely the best part. Though if you destroy it too early, the salad spills everywhere. Mr and I have learnt to leave it whole until you're nearly finished. You can then fold the bowl in half and eat it like a normal taco. But usually less messy!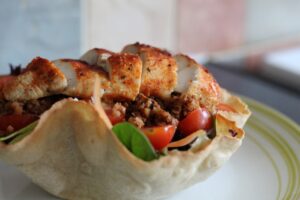 Another great thing about a salad like this is you can change it up so easily. I tend to do a peri peri chicken breast and some Mexican Rice. For this one though I actually used some tomato and herb cauliflower rice and it was delicious! You can put whatever you fancy in it, the possibilities are endless.
Of course, I made mine Gluten Free by using GF wraps but you don't have to. Any wrap will work.
Ingredients
1 Tortilla Wrap Per Person
Lettuce
Whatever other salad you like!
Microwave Rice
1 Chicken Breast Per Person (or not. Whatever.)
Method
You will need some oven safe bowls and possibly some mugs.
So realistically, the only bit I will instruct is how to make the Bowl. The rest is really down to you and what you want to do with it! I have tried so many different ways of doing this but this is the one that works consistently.
I usually do 2 bowls at a time to save washing up but if you want to do more it's up to you.
It's quite simply a case of greasing the inside of the bowl with a little spray oil. Then you pop the wrap into the bowl. I've found that normie, gluten containing wraps do this quite easily. Gluten Free, take some weighing down, which is where the mugs come into it. You can pop one in the bowl on top of the wrap to weigh it down until it holds its own shape.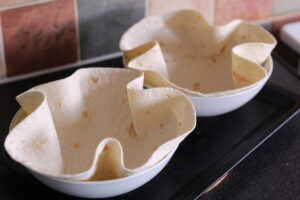 Place the wrap filled bowls on an oven tray for ease. They go in the oven on 180°c for around 15 minutes or until they look brown and crispy. Once cooked start adding your salad.
I usually add lettuce to the bottom with some spring onion scattered throughout. Then arrange tomatoes, pepper etc. around the edge. Rice gets plopped in the middle and then slice the chicken breast and place it on top.
We have discovered that slicing the chicken breast before it goes on top is a lot easier! Trying to cut it while balanced on a mound of salad is quite a skill. A skill my family apparently do not have.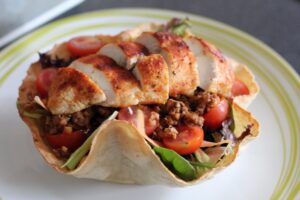 Of course, you don't have to use chicken either. Change it out for some seasoned minced beef or pulled pork or leave it out altogether! There's so many ways of doing this and each is as delicious as the last.
So who's going to try it? Leave me a comment with what you're putting in yours!
Want a different kind of salad? Why not try my simple Pasta Salad instead.