Chicken, bacon and mushroom risotto has got to be one of my favourite meals!
It is slightly time consuming as you can't leave it. But it is so easy and amazingly tasty!
Little man was not a fan the 1st time he tried it but since then he's become a big fan. I just have to spend time picking out the mushrooms! As you do to get toddler's to eat anything.
Rice dishes are always my favourite meals and you can find another great recipe here. I just find these one pan meals so much easier on busy days.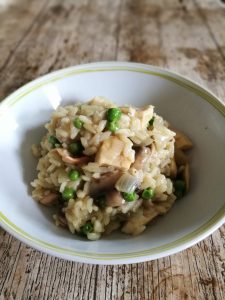 Ingredients
150g of risotto rice
375g of diced chicken
2 rashers of smoked bacon, cubed
1 diced onion
100g of mushrooms, sliced
Handful of frozen peas
1.5 tsp of Very Lazy Garlic
1/2 a litre of vegetable stock and 1/2 a litre of chicken stock mixed together
20g of grated strong cheddar cheese
Method
Warm a large frying pan over a medium heat.
Fry off the onions and garlic in low calorie cooking spray for about 5 minutes until softened. Add the chicken and bacon and cook till browned then add the mushrooms and rice.
Cook for a couple of minutes, stirring continuously just to get the rice to take on the flavours. Add about a third of the stock, stir and then add the peas.
Continue to cook on a medium heat and each time the liquid starts to disappear, add another ladle or 2 and stir.
This does take a while but trust me it'll be worth it. Keep going till you are out of stock, the rice should have absorbed it all and you should have a creamy consistency.
Sprinkle on the cheese and stir it in well, serve and enjoy.