5 Fun Ways To Get Kids To Look After Their Teeth.
Trying to get my kids to brush their teeth properly was/is like pulling teeth. When Colgate asked me to come up with a blog post around oral health, I knew exactly what it would be about! Fun ways to get kids to look after their teeth!
This Post is sponsored by Colgate. This product was gifted by Colgate, but all views are my own.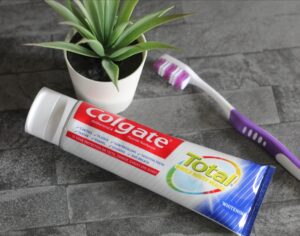 Oral hygiene is massively important but trying to get that through to your children an be like talking to a brick wall. They just don't seem to see the importance. And if yours are anything like my youngest then you need to find fun ways to get kids to look after their teeth…. Mine knows he will grow more!
The latest thing has been trying to explain to him that his big teeth will come through rotten if he doesn't look after his small teeth. Brushing time is quite frankly 2 minutes of hell most days! Which is why I've tried to come up with some fun ways of dealing with it. Welcome to my guide: 5 fun ways of getting kids to look after their teeth.
1. Get them to copy you.
I've found one of the easiest ways to teach kids how to brush is by doing it together. Brush your teeth and get them to copy you like a mirror reflection. Getting them to move the toothbrush around their mouth can be the most difficult task but doing it this way helps. They can see what it is they're supposed to be doing….. Supposed to be.
2. Get a sand timer.
The old classic but still a good one! A 2 minute sand timer has been a godsend in our house and not just for the kids. It's surprising how easily adults can forget how long 2 minutes is too!
You can make it into a game: a race against time if you will. Make sure they brush each section multiple times over. Just tell them to be careful, they can get a little too excited…. And the kids too.
3. Have a puppet/teddy help them.
Puppets and teddies can be a great tool for getting kids to look after their teeth! Has your child got a favourite Teddy that they do everything with? Why not get them involved too! You can control them, getting their best friend to brush their teeth for them. This is obviously easier if it is a puppet you use but trust me, a Teddy works too!
4. Read stories about oral health.
There are children's books about everything these days so finding a book about brushing teeth is child's play! My little one enjoys Harry and his bucket of dinosaurs that take a trip to the dentist.
Reading stories can help children to understand the world around them. They tend to take more notice of facts from a book than their parent just telling them. Well, from my experience anyway!
5. Find a YouTube video.
I'm not ashamed to say, my son has learnt SO much from YouTube! He's clearly a visual learner and it's a great way for me to get information into him. YouTube isn't just surprise box openings and people running around on soft play equipment. There's a lot of educational videos and songs too. If you search for teeth brushing videos, it comes up with a whole host of characters so there's bound to be one your child will love.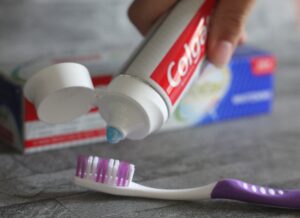 Well that's my list of 5 fun ways to get kids to look after their teeth. Can you think of any others?
Thank you to Colgate for sponsoring this post. You can find their Colgate Total Whitening Toothpaste in Morrisons https://groceries.morrisons.com/products/colgate-total-whitening-toothpaste-118321011 which is my favourite toothpaste!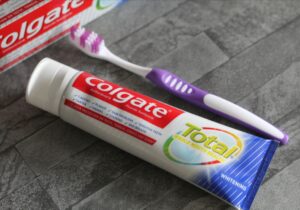 Oral health is so important so let's make sure our kids know that!