Sugar & Sloth Tiny Party Club Subscription Box
Well, a few posts ago I told you guys I was ending my Glossybox subscription and had signed up to something completely different! Well, this is it. I am now a member of the Sugar & Sloth Tiny Party Club!
For someone who wears a lot of black, I absolutely love the Japanese culture of Kawaii. Which literally means "cute", "lovely" or "adorable". I have always been a big fan of Japanese culture and it's the one place I have on my travel bucket list. I'm not really fussed about anywhere else!
I discovered Sugar & Sloth on Instagram a few months ago and instantly fell in love with the cute characters. They're not just made for kids though and there's quite a few sweary characters that just make you giggle! The phrase "Love yourself you stupid bitch" is now permanently etched in my brain! Unfortunately, I can't have any of the sweary merch in my house. The 4yo can read and I know he'd copy anything a cute animal was saying!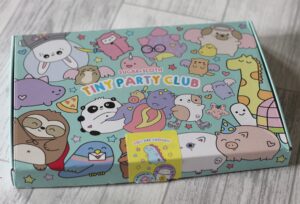 So given this somewhat unfortunate situation (putting my sons education before my need of sweary animals) I decided to sign up to the Sugar & Sloth Tiny Party Club instead. It's family friendly and suitable for anyone old enough not to damage themselves with a badge…. which means it's actually not suitable for me….. I'm useless with sharp objects and accidentally stabbing myself. But hey, I'm older and first aid trained!
Just to pre-warn anyone who may have ordered this box but not yet received it: This post does include spoilers! Go no further unless you want to see what was in this month's box.
The box itself is gorgeous! Covered in little Kawaii animals and positive messages including a "Posties are heroes" stamp on the postage label.
What do you get in the Sugar & Sloth Tiny Party Club box?
So each month has a different theme and you get items that relate to that theme. This month was "Festival Of Cute". As no one can go to any festivals this year it seemed quite apt. I'm not the type of person you'd find at a festival though (I don't do large crowds…. or people) so I did wonder if I'd maybe joined at the wrong time. I definitely didn't!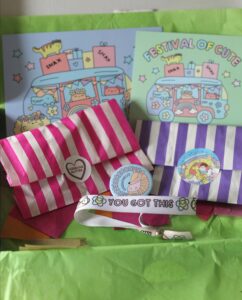 A couple of the items were in little paper bags with stickers sealing them shut which is a cute touch. All of the packaging is recyclable including the tissue paper confetti that was covering bits when I opened it.
I received a Festival Of Cute postcard, a badge and festival style bracelet. Then in the little paper bags was an enamel pin badge and a small pot of eco-friendly glitter. Which of course went everywhere as I opened it, as glitter does!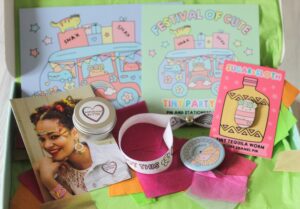 I have a couple of confessions here. Number 1, the glitter is going to my daughter. I don't like glitter and it will never get used but I'm sure she will find something to do with it! (I.e. Drop it all over her bedroom floor then traipse around the house spreading it everywhere.) And confession 2, I managed to ruin my bracelet before I'd photographed it! So don't look too closely. I loved it so much that it immediately went on my wrist. I then cleaned the oven without even thinking about it and the trail bits dragged into a mix of Pink Stuff and oven slime. It makes me so sad. It did get washed but the ends are a little brown.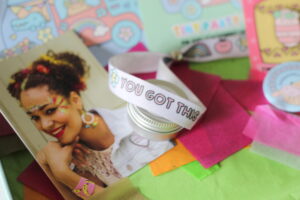 The enamel pin is also gorgeous! There is one every month and some of the previous ones I've seen look so cute! This month was Tanya the tequila worm!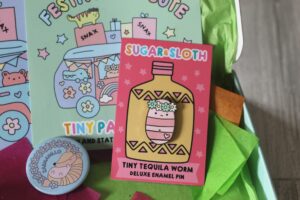 She is adorably cute but I think her backstory is even cuter! The pin has gone on my rucksack but I've kept her little backing card because I can't bare to throw it away!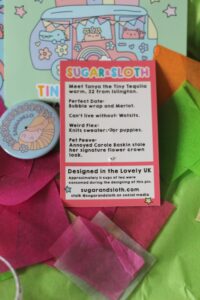 I honestly love this box and it cheered me up so much. I've been having a bit of an emotional roller-coaster over the last couple of weeks so this was much needed. There may have been a sticker order placed too which may have also cheered me up.
In all honestly though, I'm in love. I'm already looking forward to next month's Sugar & Sloth Tiny Party Club box. If you want to check out their products yourself then go over to their website. If you don't find a sticker or badge that is you then I don't think you ever will!
Thanks for reading!