Femme Luxe Loungewear Review
I was lucky enough to be sent some gifted items from Femme Luxe in order to do a review! I love doing things like this as it's not something I'd usually buy myself (I'm a leggings kind of girl on off days anyway!). During lock down I've definitely found myself wearing my comfies more often, as have a lot of people I'm sure.
Loungewear has grown in popularity over the last couple of years. It's more stylish than plain ol' pyjamas, comfier than overstretched leggings and you can actually leave the house in it without being judged in the supermarket or at the school gate!
When Femme Luxe asked to send me some of their items, I couldn't turn down the offer. They've got some gorgeous sets and I got to pick 3 of my favourites.
*Disclaimer – I was gifted the items from Femme Luxe in return for a review. All words and thoughts are my own.
I picked two complete sets and an oversized t-shirt from their range. I nearly went for all 3 in the same colour but figured I'd better change it up a little…… Not by much though! I'm not one for massively bright coloured clothes but there is plenty to choose from on the website if you are.
We'll start with one of the full sets. I'd say a favourite, but honestly, I love them all!
I think this set is going to be my winter favourite though. It reminds me of a 90's tracksuit that I had when I was little. The 90's are making a massive comeback in fashion though so I'm loving it even more!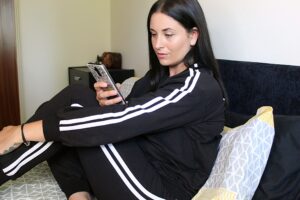 Now, I'm 5″10(ish) so a lot of trousers are often too short in the leg for me. My previous "lounge" joggers were from the men's section at Primark and still came halfway up my leg! So, I wasn't expecting much in the way of leg length. How wrong I was! The cuff sits just on my ankle bone which is perfect for me.
The sweatshirt is an amazing length too. It's a proper comfort jumper that you can pull down so it covers your bum and the sleeves are nice and long too. Given they're cuffed as well though means they don't hang down and get in your way and they can be easily rolled up.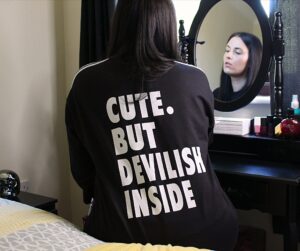 The writing on the back describes me to a tea too! I had so much fun getting the picture right for this one. It just had to be a mirror shot. Which I made slightly more [gothic] me by editing in black and white.
You can buy this set by clicking here.
The second set I chose was a gorgeous ribbed, tie top and bottoms. These looked unbelievably comfy on the website and they have been my evening wear of choice after work since I got them!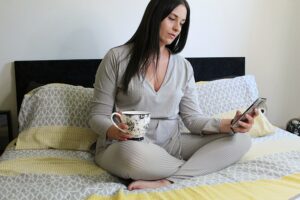 I am a size 12-14 and went for larger size in all of the pieces I got. I obviously want loungewear to be more comfortable and I am glad I went bigger. Any smaller would have been too small I think.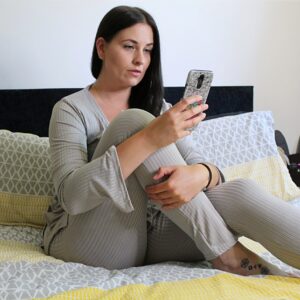 This set is definitely comfy though! The trousers are more like leggings but don't feel like they're over stretched. The seam around the bum does look like it might give way eventually (chonky butt problems) but it seems to be holding out. I just won't use them as yoga pants! Again though, they're actually long enough for me! It's like a miracle!
You can purchase this set by clicking here.
And finally. My oversized t-shirt that I am genuinely considering wearing out out (when pubs reopen)! This has been great as something to throw on quickly after a shower. It is long enough that it hides your modesty but short enough that it looks cute. The proper "I pinched my boyfriend's t-shirt" kind of look.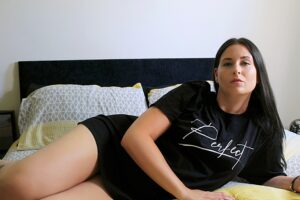 I've got a thing for oversized t-shirts at the moment and Femme Luxe have a great range of different ones. I don't like t-shirts that are too wordy. It gives people an excuse to stare at your chest for longer than required! Not that they can see a lot of course but you know, you want to punch them for staring…. Just me?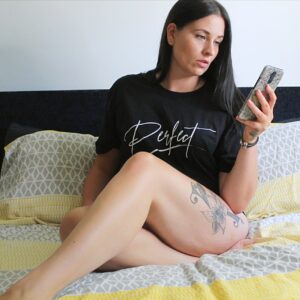 Anyway. This is my idea of summer comfort heaven. With a pair of boxers or cycling shorts it's perfect for lazy summer evenings. But as you can see, you don't necessarily need them either!
You can buy this t-shirt by clicking here.
There is so much more I could get from Femme Luxe but I don't think I'll need anymore loungewear just yet. Though I am now considering spending my days off in my tracksuit so maybe I do need more. I can't be seen at the school gates in the same one every time!
If you want to have a look at the range of loungewear for yourself then head over to Femme Luxe's website by clicking here.
A massive thank you to them for making my life a whole lot comfier! I'm in love with everything I was sent and I'm even sat typing this in the tracksuit!