I was tagged by the lovely Ruth of Ruth In Revolt to join in with the Shuffle Songs Tag. I love posts like this where you find out something slightly random about different bloggers.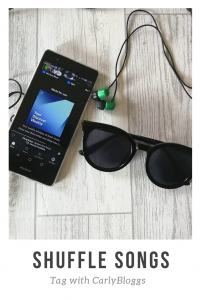 Music is a massive part of my life and there is always something playing in our house so this is probably my favourite tag so far!
I put my Spotify favourites on shuffle and this is the first 10 songs it played:
Jumpin' Jumpin' – Destiny's Child
Wow, takes me back to school! I'm a massive old school Destiny's Child fan but I can't stand Beyonce's current "music" (I use the term loosely).
Nine In The Afternoon – Panic! At The Disco
Definitely one of my favourite Panic! tracks. I have a few on my playlist, one being the controversial cover of Bohiemian Rhapsody from the Suicide Squad film (which I really enjoyed! Again, controversial, I know!)
Cry Me A River – Justin Timberlake
This song came out when I was very much the grungy, moody teenager and I refused to like anything by cheesy pop artists… This track though, how can you not like it! I will also admit that N*Sync's Bye Bye Bye is in my favourites list….
My Way – Limp Bizkit
Ah, that's better. This satisfies my inner teen. Limp Bizkit's albums frequented my car's CD player when I first started driving and they still do. There's something quite satisfying driving around screaming lyrics at the top of your lungs.
Toxic – Britney Spears cover – Our Last Night
Britney…. But shoutier. If you've never listened to Our Last Night I definitely recommend you do. I was introduced to them by an old work colleague and I have quite a few of their covers in my favourites. Shape Of You is another good cover.
Regulate – Warren G & Nate Dogg
I love this song but it actually used to be the song to get my daughter off to sleep as a baby! I had a sub in my car and she would drop off as soon as Nate Dogg's part played as his voice is so soothing. Such a shame he's no longer with us. On the contrast, Foo Fighters Everlong is what got my son to sleep and it still calms him down now.
Never Be Your Woman – Naughty Boy & Wiley
I actually love the original by White Town but the Naughty Boy version is just as good. This is probably the most up to date song in my favourites which just shows my age really!
Million Miles Away – The Offspring
More satisfaction from my inner teen! The Offspring are one of my favourite bands though whereas most people like the happier, fun songs like Pretty Fly For A White Guy, I prefer the slightly darker ones like this and The Kids Aren't Alright.
Numb/Encore – Linkin Park & Jay Z
2 classics rolled into one. I can't really say any more than that. There is a whole crossover album though which I'd highly recommend.
Chop Suey – System Of A Down
My favourite driving song! I can't tell you half the lyrics but it's great to shout along to and it does make me put my foot down a little.
A very eclectic mix I'm sure you'll agree! I love all these songs for different reasons though and it depends what mood I'm in to what I listen to. Most of my saved music is all from the 00's though as that's what I listened to growing up! I've thoroughly enjoyed doing this Shuffle Songs Tag so thank you Ruth!
I'm going to tag:
If they want to play along with the Shuffle Songs Tag of course. You can find more random posts like this HERE and HERE
Thanks for reading and I hope you enjoyed it!