My Last Ever Glossybox – May 2020
Yes, you read that right. After 3 or 4 years (it's been that long I can't remember) I'm finally saying goodbye to Glossybox. This is my last ever Glossybox.
I've been getting it since my blog started and it was one of my first ever blog posts. As much as I still enjoy it, I think our time together has run its course. I get a lot of the same products and I'm just not getting the joy I once was. It's time to move on to bigger and brighter things! (Quite literally.) I have now joined another monthly subscription box but it's not a beauty one and you will have to wait a few weeks to find out exactly what it is.
So let's crack on with the contents of my last ever Glossybox.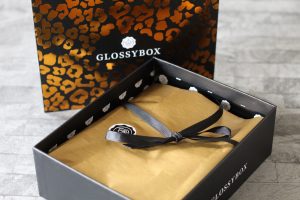 This month there were 2 limited edition boxes designs. Both embracing the "wild" theme; a zebra print box or a leopard print box! I got my favourite: Leopard print! All 5 of this month's products were full size too which was nice. But what were they? Let's see……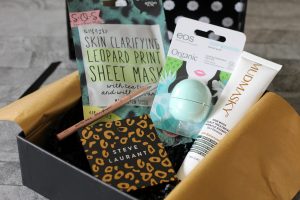 Steve Laurant Eyeshadow Palette
EOS Sphere Lip Balm
Oh K! SOS Printed Sheet Mask
Mudmasky 3 in 1 Hair Treatment
Stargazer Glitter Eyeliner Pencil
As always, we'll start from the beginning and work our way through.
Steve Laurant – Eyeshadow Palette
The eyeshadow you received this month matched your main box. So mine was of course the leopard print. I contains 9, quite natural colours with a nice mix of matte and shimmers. I have tried a couple of looks with it and it blends nicely but there's nothing "wow" about the colours.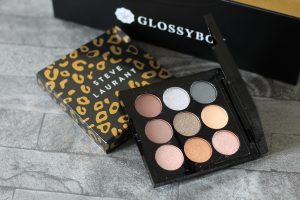 If you follow me on Instagram, you will have seen my stories and probably know I like my colour. I'm not one for a subtle look if I'm going to the effort of doing my makeup. They're a nice eyeshadow but the colours are just a bit too subtle for me. There's also no way I'd pay £31 for a palette that small.
EOS – Sphere Lip Balm
I will immediately confess…. I've not tried this. There were 3 different flavours available and unfortunately, I got the one I cannot stand: Mint. I don't know what it is, because I love a Polo or Softmint but smelling mint makes me gag.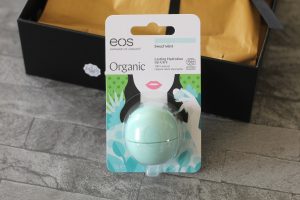 So yeah, I didn't even open the packaging. My daughter had it and was told to keep it away from me. She says it's quite nice though.
At £6.50, I probably won't bother trying the other flavours either. I'm a sucker for Carmex, sorry EOS.
Oh K! – SOS Printed Sheet Mask
Oh K! This was a life saver this week! Again, there was 3 different ones up for grabs. I received the tea tree and willow bark one which was a blue leopard printed one.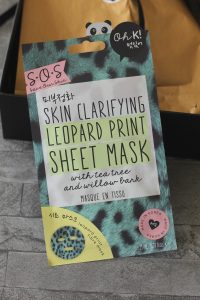 My skin has been a bit crap recently. All my own fault, eating things I shouldn't. My stomach doesn't always suffer these days but boy does my skin! I break out in the most horrendous, painful spots that leave me with huge scabs. You'd think I'd learn but apparently, I don't.
I used this mask last Sunday and my skin has improved dramatically this week. It made the big, nasty spots shrivel up and the scabs too! I love a sheet mask and if this one works that well then it is totally worth £4! They're available on Look Fantastic so I think I might have to buy another to see if it was a fluke.
Mudmasky – 3 in 1 Hair Mask, Scalp Treatment & Miracle Shampoo
I've had a few Mudmasky products in previous Glossyboxes and I'm always a fan. I'd never had a haircare product though. This is not something I'd usually buy and I'll be honest, I probably won't again.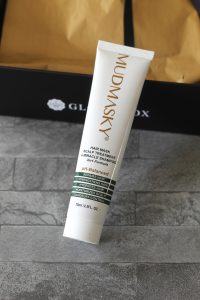 Don't get me wrong, it's nice, just not £21 nice.
I've used it a couple of times now. It's supposed to tame dry and frizzy hair while nourishing the scalp. It didn't irritate my scalp like a lot of things do and I would say my scalp has been less itchy. My hair has definitely not been any less frizzy though. It's due a cut so my ends are ruined right now anyway!
I will put this to the ultimate test though. It claims to be good after "harsh treatments" so I'm going to see how well it works after I dye my hair this week. The black/blue colour I use always dries out my hair and I have to go through a vigorous routine to resurrect it. Fingers crossed for it!
Stargazer – Glitter Eyeliner Pencil
There were 6 different colours available on this one. I received a champagne/gold colour. I'll be honest, I'm gutted I didn't get the teal colour but oh well.
It's a nice pencil, goes on smoothly with little flecks of glitter but again, there's nothing "wow" about it. I can't think of a time when I'll really use it but I'm sure I'll find something to do with it.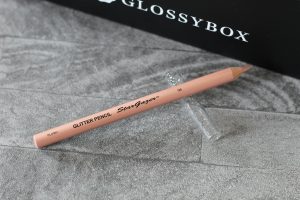 For £2 it's well worth the money though so I may buy the teal myself! I've had a look on their website though and there is SO MUCH I WANT!! They have neon everything! From liquid eyeliners and mascaras to hair dye and I'm very excited about discovering them.
And that's it…… My last ever Glossybox! It's the end of an era. I've enjoyed our time together. There's been ups and downs but overall I've had some great products and I really cannot fault it for the price!
If you want a box, my code does still work. Just use CARLY-R25 at checkout for money off. (I do receive points that can be used to buy more beauty products.)
Thank you for reading and keep an eye out for my new purchase! I will reveal all when it arrives.