January Makeup Favourites
My first beauty post of 2019! And for once it's not a Glossybox Review.
I thought I'd do a quick post about my favourite makeup products at the moment. I got a couple of them for Christmas and another couple beforehand but I am loving them all this month.
It has been noted before that I can be a bit lazy when it comes to hair and makeup. I love the stuff though and when I do put a face on, I like to make sure it's noticed.
You can read my Lazy Girl's Guide To A No Makeup, Makeup Look here. And also my Hair And Beauty Hacks post here.
But anyway, let's take a look at my January Makeup Favourites!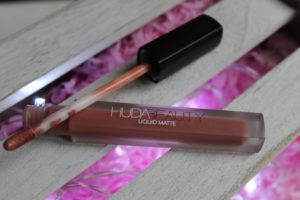 First up is my Huda Beauty Liquid Matte lipstick. This particular colour is Girlfriend and is a medium nude colour. It's perfect for day to day wear but also looks amazing teamed with a smokey eye look for a night out.
The drying time is pretty quick and it doesn't leave any stickyness. My only negative for this lipstick is that it's a little drying. If you make sure your lips are well hydrated before you apply, you should be OK though. My tip is not to wear it every day.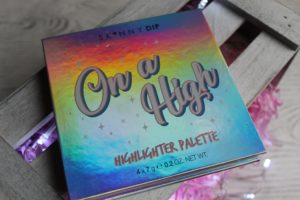 Next up is one of my Christmas presents from the OH and the kids. The most amazing highlighter palette from Skinny Dip.
I always associate Skinny Dip with accessories like phone cases and bags. Apparently they also do makeup too! This palette has 4 different coloured pans, all as gorgeous as the next.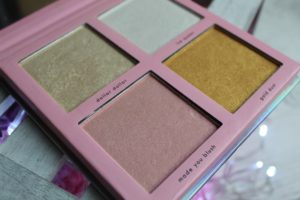 They give a great shimmer along with a hint of the colour. My favourite has got to be "dollar dollar" as I love the pale golden hint it gives. It works alongside my bronzer perfectly!
Another of my Christmas presents was this eyeshadow palette. |(My OH done well didn't he!)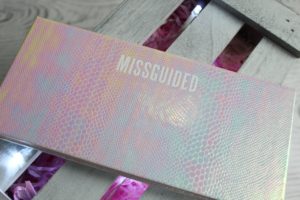 This is by Missguided, which again I don't associate with makeup. I know them for clothes but I am totally in love with these eyeshadows!
There's a nice range of matte's, shimmers and glitter colours. This range makes it such a usable palette and I've created daytime and party looks with it.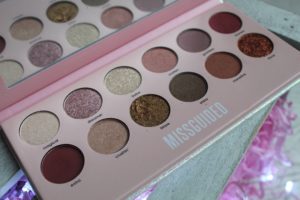 The colours are highly pigmented and blend like a dream. There's barely any fallout either, even with the glitters. My favourite was "Extra" mixed with "Blaze" as it looked so festive.
Last but not least, I treated myself just before Christmas….
I have bought so many mascaras in my time and I struggle to find one that actually stays put all day. I have found I can have a reaction to cheap ones too. They really make my eyes itch which leads to me rubbing them then ending up with panda eyes.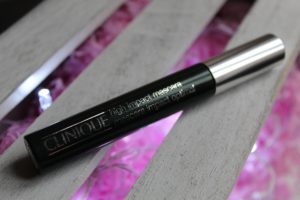 So yeah, I decided to buy myself my favourite Clinique mascara. I had a trial size one a while back (see my Clinique For Free post) and I tried to only use it for special occasions. It is a great product and definitely worth the price tag.
That shows that offering a trial size works as I would never have paid out £18 usually!
So there you go, that's my January Makeup Favourites! Did you get any new favourites for Christmas? Let me know in the comments.