DECIEM – My Skincare Surprise Box
A few months back I was searching for some new skincare items and was mainly looking at a well known brand called The Ordinary. They're well known for their well priced skincare and no BS attitude. But I'll be honest, I had no idea what anything actually does. Because of this, I decided to put out a tweet to DECIEM (the umbrella company the The Ordinary is part of) and ask for some help!
I received an email from Danni over at DECIEM asking for more information about my skin type and the problem areas I wanted to sort out. She said she was going to put together a routine for me and get some samples sent out! I was over the moon! What I wasn't expecting, was full size samples across their range!
I shared one of the items on Instagram last week as it wasn't a facial skincare product. It was a tube of Hand Chemistry Pro-Repair Skincare for Hands. Possibly the best handcream I've ever used before! You can see what I thought of that over there.
So let's dive into my box of goodies… Here's what DECIEM sent me along with instructions on what to use when!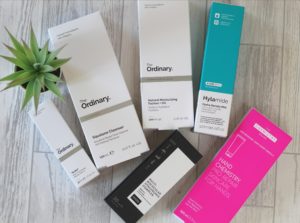 The Ordinary – Squalene Cleanser
This oil based cleanser is a dream. Its designed to break down makeup but I'll be honest, I don't find it that great for doing so. If you want an amazing oil based cleanser for make up removal then check out Clean Beauty Club. I've done a review on their Wonder Balm before. But back to The Ordinary… I haven't been wearing much makeup recently so have been loving this cleanser.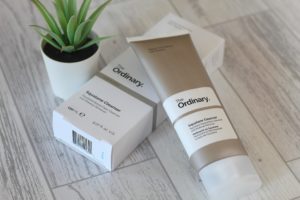 It starts as a gel and as you warm it in your hands it turns to an oil. Wipe clean with a warm cloth and viola! Smooth and hydrated skin in an instant. I've been using it morning and night (doing a double cleanse if I have worn makeup) for the last couple of weeks and I definitely see an improvement. I've not had a big spot breakout since I started using it either.
At around £5 for a tube I think it's an absolute bargain! I barely use any each wash so I have a feeling it's going to last a while!
NIOD – Multi-Molecular Hyaluronic Complex
Another of the DECIEM branches is NIOD. I'd not heard of them before so it was a nice treat and gave me something to research. They have the same, no BS approach with simple, but beautiful packaging and a real in depth look at what the product does on their website.
So as it says, this is a Hyaluronic Acid that helps target signs of ageing by hydrating the skin and and giving a more youthful appearance. It has a really nice texture that's a mix between oil and water and it glides onto the skin, soaking in quickly. I can find no residue on my skin, it seems to vanish completely.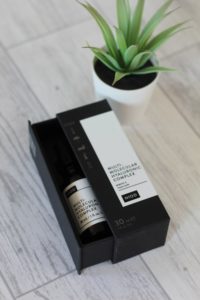 It's £25, so the most expensive of the bits I was sent but I tell you what…. I love it! Mixed with what comes next, it absolutely blows me away. Honestly, my skin has never looked better. The texture and tone are more even and my open pores are less noticeable too. It's worth every penny.
The Ordinary – Buffet
Back to The Ordinary and this little gem of a serum. It's called Buffet because of all the peptides it contains. It quite literally feeds your face! The array of things it contains are all designed to target different signs of ageing. I absolutely love it!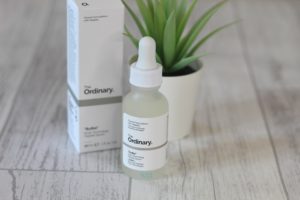 The texture is a little strange as it seems both watery and slightly gel like. Again though, it glides on, soaking into the skin with ease. And at less than £13 for 25ml I will definitely be repurchasing!
Hylamide – Hydra-Density Mist
Another of the DECIEM branches is Hylamide. This water mist seems to have been replaced by a different one on the website but I think they have the same effect.
It's basically a lightweight water mist that's designed to hydrate the skin and calm redness. In my routine I've been told to use it after cleansing but before acids and serums for extra hydration.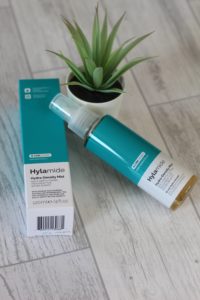 I can't say I can see a huge difference but it is refreshing and I feel like it's going to be one of my summer essentials. It's something I'll want to use after long days on the beach (covered in spf of course!)
The Ordinary – Natural Moisturising Factors
If you're a regular reader of my beauty posts then you will know I have been loyal to Nivea Q10 for years. Well, my focus has now been well and truly taken away. This moisturiser feels amazing on my skin!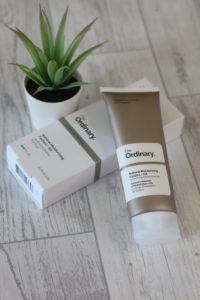 It contains a mix of different compounds that are naturally found in the skin. The formulation leaves my skin feeling hydrated but not at all greasy. It finishes off my new skincare routine fantastically! You don't need a lot so the 30ml tube at £4.90 is a bargain! That's actually cheaper than my Nivea so guess what…. It's also going to end up being repurchased. Not that I'm going to run out of any of these products any time soon.
So to round up: I'm in love with DECIEM. Everything they sent over is amazing and I want to thank Danni for helping me out so much. Sometimes all you need is a skincare expert to give you a nudge (shove) in the right direction.
Do you have any favourite products from DECIEM? Let me know in the comments below. You can find their products on loads of beauty sites or click here to head over to their webiste.