Gluten Free IKEA Style Meatballs With Creamy Sauce
I think I only got to have IKEA's famous Swedish Meatballs once before I realised I was gluten intolerant so I don't really have much to compare them to. I've been wanting to try this recipe for ages though and typically, during this lock down, IKEA actually released the recipe for their infamous meatballs! They're not gluten free though so I've still played around and adapted the recipe to suit me. So here it is, my Gluten Free IKEA Style Meatballs recipe! Complete with the creamy gravy sauce.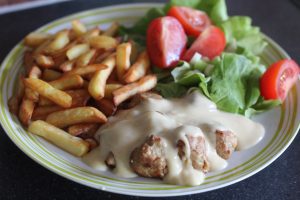 You can make this recipe dairy free too by using alternative yoghurt and butter. It can literally be made to suit any dietary requirement! Apart from veggies and vegans. Sorry guys, I'll see if I can recreate their vegetable ones at some point. Which, funnily enough are (at time of writing) gluten free! And rather tasty too I might add.
Of course, you don't have to make these gluten free if you don't need them to be, just substitute the flour and breadcrumbs for the normie stuff.
But that's enough of my waffling. Here's how you make Gluten Free IKEA Style Meatballs!
Ingredients (Serves a family of 4)
For the Meatballs
500g Lean pork mince
1 Slice white bread from a 400g gluten free loaf slightly toasted and blitzed to breadcrumbs
1 Tsp onion powder
1 Medium egg
1/2 Tsp nutmeg
1/2 Tsp all spice
Pinch of salt and pepper
For the Sauce
40g Butter
40g Gluten Free Plain Flour
300ml Beef Stock
100ml Plain Low Fat Yoghurt
1 Tsp Soy Sauce / Tamari
1/2 Tsp English Mustard
Method
Start by making your meatballs. In a large bowl add your pork mince, onion powder, nutmeg, all spice salt and pepper. Get your (washed) hands in there and combine the ingredients together.
Add the egg and the bread crumbs and get your hands in there again. Make sure everything is mixed well and the meat is practically smooth. Take small chunks out of the bowl and roll them in your hands to form the meatballs. I managed to make 24 meatballs out of mine but I made them smaller than I would meatballs to got with pasta. But if you've ever had IKEA meatballs then you'll know, they are smaller.
Once you've made all of your balls, you can pop them in the fridge if you're not quite ready to cook. Or, you can warm a frying pan, with a small amount of oil, over a medium heat.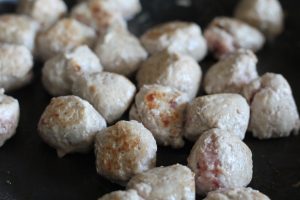 Once the pan is warm, pop your meatballs in and brown them off. You don't need them to cook all the way through, just enough so they hold their shape.
Once browned all over, pop the meatballs on a baking tray and into a pre-heated oven on 170° for half an hour.
While they're in the oven, you can get to work on the sauce for you gluten free IKEA style meatballs!
In a saucepan, melt your butter over a medium heat. Whisk in the flour bit by bit and continue to stir for a couple of minutes. Add the beef stock and give it all another good stir.
Once combined, take off the heat for a minute and add the soy sauce, mustard and the yoghurt and give it all another good stir. Put the pan back on the heat and bring to a simmer. Continue to stir while you bring the sauce to a simmer and let it thicken.
Once it's at a good consistency, serve up your meatballs and whatever side you're having and pour the sauce over the top!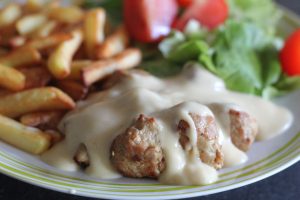 We had ours with chips for a real IKEA experience but they also go really well with mashed potatoes.
Don't fancy this? Then why not try my Chinese Style Salt And Pepper Chicken instead?
Enjoy!