Gluten Free, Vegan Thumbprint Biscuits With Lemon Curd
Another week, another recipe! I wouldn't usually do 2 similar posts one week after the other but I HAD to share this recipe with you guys. I have already given it out to one of my Insta friends who also made these gorgeous gluten free, vegan thumbprint biscuits and given me feedback on how good they are. I always worry about posting recipes just in case they're not as good as I think they are. I've used recipes from books before and been really disappointed at how bland the flavour was and I think that's what triggers my worries.
But anyway's…. My lovely work colleague brought in a jar of her homemade lemon curd (yes I'm still at work during Covid) for me to try and I wanted to do something different with it other than eat it off the spoon. Luckily, the same colleague also brought in some gluten free self-raising flour for me as I've not managed to find any anywhere! So if it wasn't for her, this recipe would not have been posted today….Maybe ever.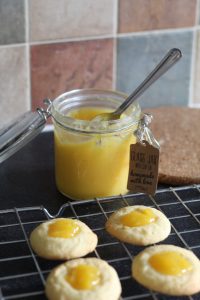 But I'm so glad it is because it's such a good one! And I'm not just saying that myself for a change. The recipe is gluten free and also vegan if you get the right butter. I actually use Tesco's cheapest spread at 66p (or close) and it is vegan. It's what I used in these and it worked perfectly.
Of course, if you don't need gluten free or dairy free then just use whatever you do have! I can't promise normie flour will work though…. because I can't use it. If anyone does give it a go though, let me know if it works!
The same goes for the lemon curd. If you don't have any or don't like it, the jam works too. I actually made both so can vouch for that. Though a good quality jam works better than a cheap one, they still taste as good.
Ingredients (Makes Roughly 24 Small Biscuits)
150g Gluten Free Self Raising Flour
100g Vegan Friendly Margarine/Spread
100g Caster Sugar
1 Tbsp Golden Syrup
Lemon Curd for topping
Method
Pop your oven on and get it warming up to 160°c.
Start by combining the sugar and margarine in a mixing bowl. Keep mixing until it's nice an smooth.
Add the golden syrup and half the flour and give it another good mix. Keep adding the flour bit by bit and making sure the dough stays smooth.
Once it's all combined you can make your biscuits.
Line a couple of baking trays with greaseproof paper and spoon your mixture onto the paper in little round blobs. I used a teaspoon to do this and it worked out to be the perfect size. Don't worry about flattening them, they will spread in the oven.
Pop your little blobs in the oven for about 10 minutes. You will notice them start to go browner around the edges.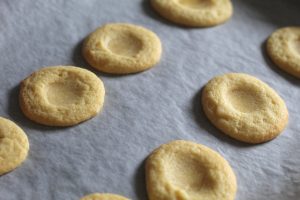 Remove them from the oven and create a little dent in the top of each biscuit. I used a teaspoon and not my actual thumb to make the dent. They're way too hot to be sticking your finger in!
Spoon half a teaspoon of lemon curd into the dents. Pop them back in the oven for another 3-5 minutes or until the whole of the biscuits is a nice golden colour.
Just be careful and keep an eye on them as they can burn easily.
Once cooked, pop the biscuits on a wire rack to cool. Voila! Gluten free, vegan thumbprint biscuits!
They have a lovely texture, being both crumbly and soft and chewy. I've actually played around with this mixture a bit more since making these and have come up with other ideas so keep an eye out for that.
If you're not much of a biscuit fan though, why not try my chocolate brownies instead? They're not vegan, but they are milk free if you get the right ingredients.