Slow Cooker Herby Chicken
Slow Cooker Herby Chicken was a complete experiment that turned out to be one of those much loved recipes!
I love my slow cooker and not just during the winter. I decided to have a look through my recipe books to create some new recipes to do in it. This is quite simple but really tasty and makes life so much easier on the days I have work. All I need to do is cook some pasta and serve it up. You could have it with anything though as it's almost a casserole type dish.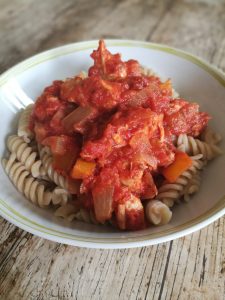 Ingredients (serves 4)
600g of chicken breast, diced
1 pepper
1 onion
10 or so baby plum tomatoes
1 tsp of garlic powder
1 tin of tomatoes
2 tsp of dried mixed herbs
Water
5 tbsp of tomato puree
Pinch of black pepper
Method
Chop your peppers and onion into 2cm squared pieces, cut the tomatoes in half and put them all in your slow cooker. Place the cubes of chicken on top then sprinkle in the herbs and garlic powder. Add the tinned tomatoes then fill the can quarter of the way up with water and add that too. Add the tomato puree and the black pepper to the slow cooker dish and mix well. Set the cooker on low and leave it for 6 hours to do its thing. Or you can set it to high for 4 hours.
Either way I recommend that you set it to high and leave the lid off for the last hour so the sauce thickens. You can also add more tomato puree to help this.
Serve with pasta or whatever you fancy and enjoy!