Easy Chicken Curry with Pilau Rice
This easy chicken curry is a firm favourite in my house and you can make it as spicy (or not) as you like. I don't make mine overly spicy as both kiddies eat it and Mr isn't great with heat.
No matter how you have it, this is still full of flavour. But then, is a curry ever boring?
I don't ever change this recipe but you could always add some chickpeas if you wanted to bulk it out a little more.
If you can, make it so there's a portion left over. Trust me, this tastes even better as leftovers! Popped on top of a jacket potato is my favourite way.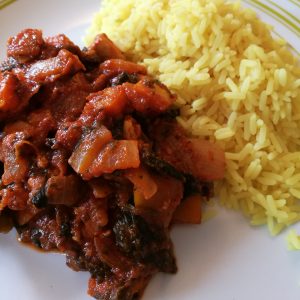 Serves 4
Ingredients For The Easy Chicken Curry
400g of diced chicken
2 medium onions (cubed)
2 peppers (cubed)
2 blocks of frozen spinach
400ml of chicken stock
1/2 a small carton of passata
6 tbsp of tomato puree
1 tbsp of medium curry powder
1 tbsp of dried coriander
2 tsp of lazy Garlic
1 tsp of garlic powder
1 tsp of onion powder
For The Easy Pilau Rice
2 packets of boil in the bag rice
4 split cardamom pods
2 tsp of turmeric powder
Method
Heat a high sided pan and spray with cooking spray. Add the onions and garlic and fry for about 5 minutes until softened.
Next add the chicken and peppers. Cook, stirring occasionally to make sure the chicken is browned. Sprinkle over the curry powder and stir everything, making sure it all gets covered in the spices.
Pour in the stock, passata and tomato puree. Stir well then add the garlic powder, onion powder and coriander and stir again.
Add the frozen blocks of spinach and leave to simmer for 20 minutes, stirring occasionally to help break the spinach blocks up.
Meanwhile, crush the cardamom pods and add to a saucepan of boiling water along with the turmeric. Add the bags of rice and cook as per the instructions.
The curry should be ready by the time the rice has cooked. It should have quite a thick consistency with most of the liquid having been evaporated.
Serve with the drained rice and enjoy!
Tried this recipe? Let me know in the comments. Or if you fancy something a little different, try my Katsu Curry recipe.