Roasted Red Pepper Hummus
Roasted Red Pepper Hummus was a little bit of an experiment. I love when my experiments go right though!
I've never been much of a hummus fan but I decided to give this a go so I've got something a bit different for lunch. Now it's got me thinking about summer picnics down the beach. This is the only way I will ever eat celery. I can't stand it on it's own usually!
Shop bought hummus can be quite high in fat so this is a healthier alternative. Roasted Red Pepper Hummus is a little bit thicker but still tastes amazing. It also doesn't take too long to make, as long as you have a food processor of course!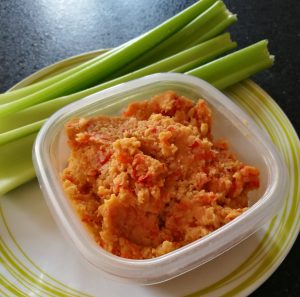 Ingredients
A 400g can of chickpeas
2 cloves of garlic, crushed
1 red pepper
1 tsp of paprika
Small sprinkle of chilli flakes
Pinch of salt and pepper
Method
De-seed and slice the red pepper then place it skin up on a baking tray and spray with a bit of cooking spray.
Pop in the oven on 180° for 15-20 minutes until the pepper has softened. You should be able to peel the skin of the red pepper straight off.
Rinse and drain the tinned chickpeas then add them to your food processor.
Add the garlic, paprika, chilli flakes and the salt and pepper. Once the red pepper is cooked and peeled add that too.
Blitz the ingredients until it becomes a smooth(ish) paste then serve and enjoy with a variety of vegetable sticks.
It should make enough to last you a couple of lunches if it's just you eating it. It of course makes a perfect dip for gatherings or parties too.
If you want a different flavour then try my Healthier Lemon and Coriander Hummus