Vanilla and Toasted Marshmallow Baked Oats
Baked oats were my staple breakfast once upon a time. They always taste pretty good with whatever combination you come up with. This Vanilla & Toasted Marshmallow recipe is a pretty simple one. It tastes great though! Nothing can beat toasted marshmallows for breakfast though.
You can find another couple of variations of Baked Oats by clicking HERE or HERE.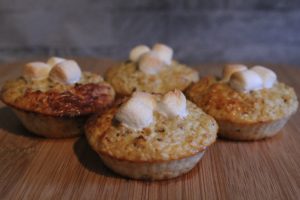 I use gluten free oats for mine but you can use any you have in the cupboard if you don't have to worry about intolerance's.
Ingredients (Makes 4)
40g of Oats
2 tbsp of sweetener
3/4 of a vanilla Muller Light
1 egg
Couple of drops of vanilla essence
12 mini marshmallows
Method
Mix your oats, yoghurt, egg, sweetener and vanilla essence in a bowl till they're well mixed.
Divide the mixture between 4 silicone cupcake cases. I use silicone ones because these will stick to anything else.
Pop in the oven on 180° for about 20 minutes. When they start to look a bit golden on top take them out of the oven and place 3 mini marshmallows on top of each one then pop the tray back in the oven for a further 5-10 minutes.
Take them out of the oven and leave to cool for a couple of minutes then enjoy!