Caramel Apple Baked Oats are the perfect autumnal breakfast. Filling and tasty too.
I've said it once, I'll say it a million times, I love baked oats!
I did go off of them for a while as I was eating them so often. Now though, I'm back on them, just not as often.
I decided to go seasonal with them today as it is caramel apple season! I forgot how much I liked cooked apple too, there's something really homely about it and it just reminds me of apple pie.
These Caramel Apple Baked Oats were so tasty and a nice way to sneak a bit of fruit in first thing. If you are making these gluten free then please remember to use gluten free oats, I really don't want to make people ill!
If you fancy a different flavour then go and check out Vanilla and Toasted Marshmallow Baked Oats or Black Forest Baked Oats
Ingredients
40g Oats
5 tbsp of low fat caramel yoghurt
2 tbsp of sweetener
1 egg
25g of apple, diced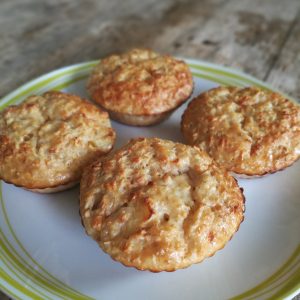 Method (makes 4)
This really couldn't be any simpler. Add all the ingredients to a bowl and mix well.
Separate the mix into 4 silicone cupcake cases and pop in the oven at 180°c for around half hour or until the tops have gone a golden brown. Serve and enjoy when cooled slightly.
I use silicone cases because these stick and are a bugger to remove from anything else!
My toddler also loves these and I am never allowed to eat them alone. Funnily enough though, he won't eat them if I make him his own ones.