October's Cheap & Cheerful Buys
Let's be honest, everybody loves a bargain, me especially! Being a mum to 2 means any money I earn gets spent on the children so I rarely get anything for myself. I like to try and find things that don't cost the earth but I feel like I'm treating myself a little. This month I was on the look out for a new face wash, my most recent one was a cleansing milk that came in one of my first Glossybox's and I tried scouring the internet for more but it was only available from abroad and I'm not paying out for the product then shipping costs! I read through a few reviews and articles and ended up in Aldi…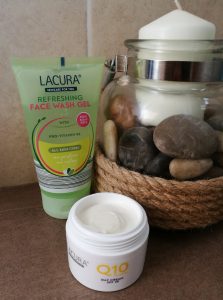 Their facewash is 99p and I also picked up a Q10 face cream for £1.49! I am a diehard fan of Nivea Q10 and I have been using it since I was about 24 (I'm now 30), only diverting from it once, which I regretted within a couple of weeks as the lines under my eyes began to show quite drastically! I figured that this probably has roughly the same formula though and Aldi is amazing for food dupes so surely their cream would be good too?
I used the facewash day and night for 3 days then the usual happened, my skin started to react to it. I came up red and blotchy and my skin felt like it was on fire, it also caused a big outbreak of spots which I didn't appreciate! There is a sensitive one so I might try that but for now I've purchased an Olay sensitive cleansing wash which is doing a great job and Superdrug currently has all Olay products at better than half price so it only cost me £1.50!
Now the cream…. It has a thicker consistency than my Nivea one and doesn't spread quite so easily but it absorbed pretty quickly. I noticed my makeup wasn't going on so well though and it was making my eyebrow pencil and powder clump and left the hairs looking greasy (I thought maybe it was just my pencil going funny so tried both). I mean, I don't purposely put cream in my eyebrows but I do all around my eyes and my eyelids so some is bound to get on them. Then, while at work, after a couple of days of using it, I looked in the mirror in the bathroom, smiled at myself and was horrified! The lines!!! I use a separate eye cream but clearly that doesn't work as well as Nivea either! They didn't go away when I stopped smiling either so that made my mind up, Nivea Q10 just can't be beaten, it is one luxury I HAVE to have! I'm 30, I'm bound to get wrinkly (I have the greys going on too) but I'd rather delay them for as long as I possibly can.
I had something else turn up this month too, though it was ordered over a month ago.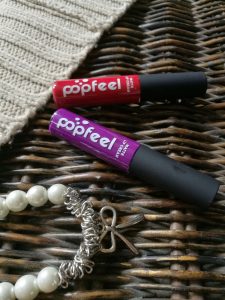 I have a bit of a lipstick obsession at the moment and I am loving anything that's matte and claims to be transfer proof. I have an amazing dark brown from the Kylie Jenner range and a pale one from Rimmel so I wanted to add to my collection with a different funky colour and a red. My friends have some amazing Jeffree Starr colours but I just can't warrant £20 on a lipstick so I went on the hunt for cheap versions. I found these little beauts on eBay for £1.09 each! I wasn't expecting much given they were from China and I had to wait 6 weeks for them to arrive but I was actually pleasantly surprised. They went on just as easy as my others and dried really quickly. The purple did go a little patchy but the red looked amazing! I managed to wear it all day at work, only touching up the inside of my lips after lunch. I even got a couple of compliments from colleagues who were even more impressed when I said how much it was.
Removing them was a little bit of work but a good scrub with a baby wipe worked wonders and they hadn't dried my lips out at all. These were definitely my bargain of the month! You can get them here-
https://rover.ebay.com/rover/0/0/0?mpre=https%3A%2F%2Fwww.ebay.co.uk%2Fulk%2Fitm%2F262621813864