Day 11 of the 30 Day Yoga Challenge
I've been doing a 30 day yoga challenge that I found on YouTube in order to help ease my back pain and to generally just tone up at bit (see my previous diary blog post for a more in depth description of what's actually wrong with my back).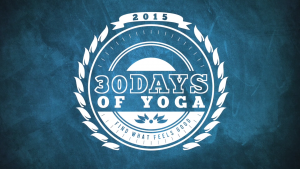 On my last blog post I was only a couple of days in and I was truly feeling broken. Everything ached, muscles I didn't know existed had been stretched and I wasn't sure how I was going to keep it up. Well, I'm now on day 11 and I have only missed one day which was due to work commitments. I am now finding it surprisingly easy though and even better, nothing really aches anymore! I have the odd muscle stretch ache but you are bound to get that if you're exercising! My back has definitely seen an improvement too, I get up in the morning and I can actually move! 2 weeks ago I wouldn't have been able to bend to wash my face over the sink for a good 10-15 minutes after I'd got up and now I'm able to do it with ease straight away!
I'm not the only one who has noticed a difference though, my other half said that he can see muscle definition in my back as I'm doing it so it must be doing something, I didn't know I could have muscle definition in my back!
It's 15-30 minutes of deep breathing and stretching that I get to myself every day. It's definitely worth finding the time to do it and it is helping me in so many ways already. I'm so determined to finish the 30 days and I'll continue to keep you updated with how it's going!
If you want to give it a go yourself this is the link:
30 Days of Yoga: http://www.youtube.com/playlist?list=PLui6Eyny-UzwxbWCWDbTzEwsZnnROBTIL