Baked Sweet Potato Onion Bhajis
We love a curry in our house and these Baked Sweet Potato Onion Bhajis are the perfect side dish!
My family love my Easy Chicken Curry which is packed full of healthy veggies. We do tend to turn curry night into a feast though! Even me being gluten free doesn't stop us having all of the side dishes.
These Baked Sweet Potato Onion Bhajis are absolutely delicious. Because they're baked it makes them healthier than your standard Bhajis. And you can get extra vegetables into the kids without them realising!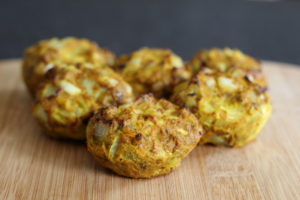 Ingredients (Makes 6-8+ depending on the size)
1 Medium Sized Sweet Potato
2 Onions
1 Tsp Curry Powder
1 Tsp Turmeric Powder
1/2 Tsp Coriander Powder
1/2 Tsp Dried Coriander Leaf
Dried Chili Flakes To Taste
1 Large Egg
Method
Start with the hard bit: peeling and grating the sweet potato. It needs to be done with a fine grater but think of it as your exercise for the day!
Once grated try to squeeze out as much water as possible using a muslin or something similar. When you've got rid of the excess water, pop the grated potato into a mixing bowl.
Finely slice your onions and break up the layers into your mixing bowl.
Next, add all of the seasonings and the egg. Then you need to get your hands dirty! I actually wear gloves for this to stop the turmeric dying my fingers yellow. It's up to you but get your hands in the bowl and start mixing.
When it's all mixed together well you can start moulding them. I find the easiest way is to pop mine in silicone cupcake cases. They can stick pretty easily so the silicone stops this. You can of course make patty shaped ones and lay them on a baking tray too.
Take a small handful of the mixture and shape into balls or patties. Pop into the cases or on a baking tray. I find I can usually make at least 6 Baked Sweet Potato Onion Bhajis from this mix.
Pop your baking tray full of Bhajis into a preheated oven on 180°c. Leave for 30 minutes, turning them very carefully halfway through.
You may find the ends of some of the onion may burn slightly. Don't worry, it adds to the flavour and crunch. When the Baked Sweet Potato Onion Bhajis look a nice golden colour serve them with your favourite curry. Or, I just make them as a healthy snack to eat throughout the day!
Enjoy!