Low Fat Chilli Con Carne Two Ways
This Low Fat Chilli is loved by everyone in my house and it's such a good way of using up slightly wrinkly vegetables that are lurking in the fridge! There's usually some leftover too which means quick meals for little man or a chilli con carne jacket potato one lunch time for me. We recently used the leftovers to make chilli dogs, which were amazing!
I don't make mine spicy as the kids eat it this way. If you wanted more of a kick then some dried chilli flakes will do it! I tend to add them to the leftovers if it's just me that's going to eat it!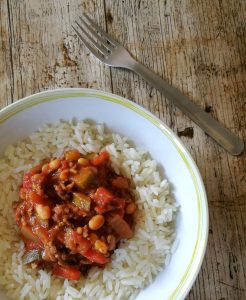 Ingredients (Serves 4)
250g of 5% fat mince
1 tin of chopped tomatoes
2 tsp of Very Lazy Garlic
1 large pepper
1 onion
1 courgette
1 tin of baked beans
Mushrooms
3 tbsp of tomato puree
1 tbsp of mild chilli powder
1 tbsp of ground cumin
1 tsp of smoked paprika
Method
Chop all your vegetables into chunks, this is probably the most time consuming part, the rest is really simple!
Now, there are 2 ways I do my chilli depending on how much time I have.
Method 1 (on the hob)
Fry off the onion and garlic until slightly soft then add the mince. Drain off any excess liquid from the meat, though there shouldn't be much with a good 5% mince, then add the peppers and courgette and cook for a couple of minutes.
Add the tinned tomatoes and beans then refill one of the cans with water and add that too. Add the spices and tomato puree and stir well, finally adding the mushrooms.
Bring to the boil then reduce the heat, cover and simmer for at least 20 minutes until thickened. Make sure you stir regularly as it will stick to the pan.
Method 2 (slow cooker)
This is a great way of making low fat chilli con carne if you need a dinner as soon as you walk through the door. It's just slightly watery in comparison to the hob version so don't add a full can of water, more like half. Brown your mince and the garlic off in a frying pan, removing any liquid. Chuck EVERYTHING in the slow cooker and stir well. Cook on low for around 8 hours while your doing whatever you do during the day.
Serve and enjoy!