Homemade Scotch Eggs make a great lunchbox filler and are definitely one of my favourite lunches! Mr takes them to work and his colleagues always comment on how good they look. They're also great for picnics along with mini quiches!
They do take a bit of practice but they're easier to make than I ever thought! If I can do it then anyone can.
I try to keep the egg on the soft side as I love having a gooey middle! You can easily make these gluten free by using the right ingredients too. Always check your sausages as many aren't gluten free!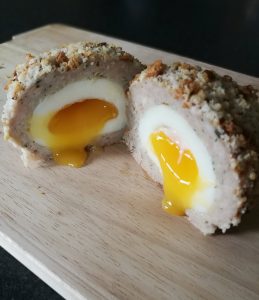 Ingredients (makes 2)
2 eggs
3 low fat sausages
1 slice of bread
Method
Boil the eggs for 6-7 minutes and once the time is up put the eggs straight into a bowl of cold water.
Meanwhile, slightly toast your slice of bread then let it cool. Once cooled, pop it into a food processor and whizz up into breadcrumbs and set aside.
Peel your eggs from their shells. Now comes the complicated bit which, once you've done it a couple of times becomes a lot easier (she says). Lay out a piece of cling film, peel your sausages from their skins and cut one in half.
I have found that 1 and a half sausages is just enough to cover the egg. Now, squash the sausage meat on to the cling film in a "T" shape. Pop the egg on to the sausage and using the edges of the cling film, wrap the meat around the egg.
You can now roll the egg in the clingfilm on a worktop and smooth out any seams and bumps in the meat, sealing in the egg completely.
Once you have a smooth ball, put a layer of breadcrumbs on to a plate then roll the ball in them, making sure you cover it all. I now put it back in the cling film and roll it again as it helps the breadcrumbs stick better. Once you have done both eggs, spray a baking tray with cooking spray. Take the eggs out of the cling film and pop them on the tray and spray them lightly too. Pop in the oven for 25 minutes on 180°.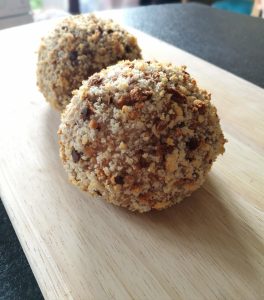 Boiling the egg for 6-7 minutes means it should still be slightly soft in the middle, if you like your eggs harder then boil them for a little longer.
Enjoy! Enjoyed this recipe? Let me know in the comments. If you haven't got time to make them now then save the recipe for later by Pinning the image below.