London Adventures – The Allergy and Free From Show 2019
The Allergy and Free From Show; Now my third favourite foodie day of the year! My first being Christmas and second is Bonfire Night (a family tradition).
I found out about the Allergy and Free From Show shortly after changing my diet last year. My niece has Coeliac Disease so it seemed like an ideal day out. Well, I've never seen a little girls eyes light up quite like my niece's did when I told her that as long as she was on green carpet, the food was safe to eat.
We rolled out of that show in the end! With bags stuffed full of gluten free goodies.
So of course, we were going again this year!
The Allergy and Free From Show 2019
The Allergy and Free From Show runs for 3 days over the first weekend of July. We decided to head up on the Saturday as it was the easiest day for both my sister and I. It was planned that I would drive but unfortunately my body decided I was going to have a bought of insomnia the night before! I genuinely didn't think I was going to make it at all. Luckily my sister came to the rescue and she offered to drive us instead.
The Allergy and Free From Show is held in Olympia, Kensington. It's the opposite side of London to where we come in from but still quite easy to reach. We drove to Westfield Stratford (as I've said about in a previous post) then jumped on the central line. It is a 15 minute walk from Shepherds Bush so not too bad.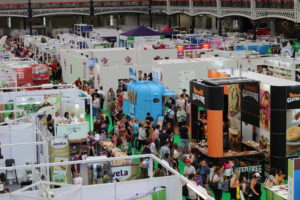 We came up with a plan to take a small suitcase with us this year. It was so hot last year and water was really expensive! We figured we could fill it with water bottles on the way up, drink them and replace the bottles with the food we buy. It also makes navigating the underground a lot easier!
I had been contacted prior to the show to see if I fancied a blogger meet-up. It was going to be in a different section of the hall and there would be nibbles provided. Of course I said yes! Though I was very nervous about going on my own. This was one reason I was not going to let insomnia beat me though! I'm so glad I managed it.
We made it to The Allergy and Free From Show almost dead on 11am. This was the time of the blogger meet-up so I left my sister and the girls with the suitcase and headed straight upstairs. It was so hot up there and given I'd just walked too, I was slightly sweaty. Just what I wanted when I was about to introduce myself to a whole load of bloggers! It didn't help my confidence that's for sure.
Luckily I spotted the friendly face of a blogger I've been talking to for the last year or so. She was in a group of people but was so lovely and introduced me to the people she was talking to.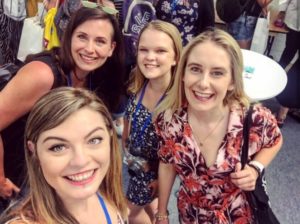 I ended up meeting a few people I knew through Instagram and some new people too. It was a lovely experience. I didn't just meet bloggers though, I met some company reps too. It was great to speak to the actual people behind the messages I usually get. They also had goody bags and I walked away with an armful of freebies! I was definitely grateful I took a suitcase!
I had also been asked to pop to a couple of stands to say hello to companies. Being able to put faces to names was so good.
The show itself was good too. We found there wasn't quite as much variety as the year before though. It seemed to be a lot of bread, which is great, but there's only a certain amount of bread you can eat and buy. I just remember there being more new releases the year before. Things to get excited about.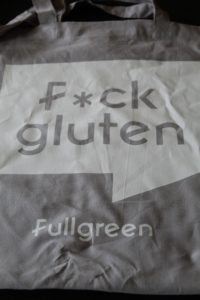 There were a couple of new releases from companies like Schar and Perkier Foods. They were sweet based things though so not something that you could eat a lot of. This meant we actually needed to go and eat when we left.
Overall, we had a great day out at The Allergy and Free From Show and we picked up some absolute bargains!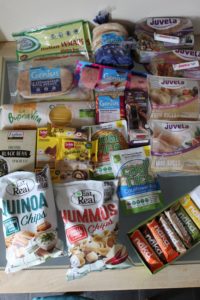 This was my haul which includes things I was gifted as well as bits I actually bought. My favourite gift was definitely this box from Schar though.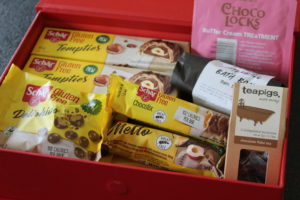 A range of their chocolates, a Lush bath bomb, hair treatment and chocolate tea bags. It was brilliant! I got my sister to take a picture of me holding it in front of Schar's big board but someone thought I was offering it out and went to help themselves! Clearly they hadn't realised they were in a shot and it was quite funny.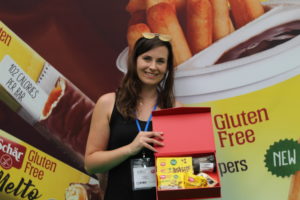 My niece was again, happily munching her way around the show. It's nice to see a child so happy about being able to eat everything around her. She's 9 and has been diagnosed since she was 18 months old. Gluten Free is all she's ever known and she's very cautious about eating. To be in a safe environment where people ask about your allergies is so refreshing.
We will definitely be going back again next year. It's a good day out and we do buy things that we can't always get in our local supermarkets. Next year I'd like to see some more of the big supermarkets attending. They would do well from speaking to their shoppers and finding out what we'd like. But hey, that's just my opinion.
Did you go? What was your favourite find?