Date Night In A Small Town – What We Do
As parents, we don't often get chance to go out by ourselves. Children take up a lot of time and you can read more about our toddler here. When the opportunity does arise, we certainly try to make the most of it!
We live in a small seaside town and to be quite honest, as with most small towns, there's not much to do. We have a couple of bowling places, a cinema, and a few restaurants. Trying to find something to do for Date Night usually sees us going to one of the nearby, larger towns.
Our little cinema is an absolute bargain though. It's £3.50 a ticket! Even with an online booking fee, for 2 tickets it still costs less than 1 Odeon one. It seems silly to drive 20 miles, pay for parking, pay for extortionate cinema tickets and then a 20 mile drive home again. Ours also has amazingly comfortable leather seats and plenty of leg room. What's not to love!
This weekend was the opening for Venom: One of my favourite Marvel characters. It also stars Tom Hardy so a total win win for me! So, I'd decided that cinema was definitely on the cards for date night and we'd stay in town as the tickets are so cheap. We booked the 8:15pm showing which meant we could go out for dinner first.
Date night issues….
Trying to find somewhere for dinner in a small town when you're Gluten Intolerant is a bit more of a challenge. We have a couple of chain restaurants so you pay through the nose for pre-packaged crap. Or, with the independent places you have to choose the most boring option because it's the only thing you know is safe.
I Googled to see what smaller restaurants were around and have a peek at menus. One of the first I noticed was Armstrong's At The Pavillion.
It's in the same area as a bowling alley and arcades on the seafront so you kind of forget about it. I had been there a couple of times pre-gluten free but not for a good year or so. When you're not worried about allergens you don't take so much notice of menus so I had no idea what this restaurant could offer.
As soon as I opened the menu I was amazed! SO MANY OPTIONS!! My mind was made up immediately, we were going there!!
So that was sorted, Friday night, date night, was booked! I couldn't wait to drop the toddler off.
Date night arrived…
We don't live far from town and Friday was a nice clear evening so we took a stroll along the seafront. This meant we could both have a drink too which is very rare! Mr did of course become my personal photographer on the walk. Well I needed an outfit shot didn't I!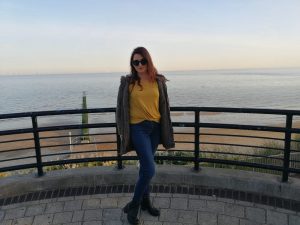 Armstrong's is a beautifully laid out restaurant and it looks really fresh and modern. The key feature though is the wall of huge windows that looks out to sea. Annoyingly, I forgot to take any interior pictures so I pinched this from their website.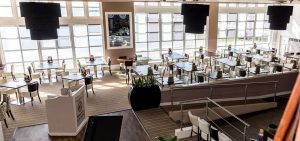 We were given a table right next to the window. It was lovely to just sit and watch the sun set over the pier. Oh no, wait, that was a sunrise… A tequila sunrise. It wasn't actually on their cocktail menu but the barstaff were great and made me one anyway!
The menu is predominantly gluten free and even has an asterisk next to the items that can be made to suit. I had already got my heart set on a portion of gluten free onion rings as they have always been my favourite side!
For starters we decided on some sharing nachos. We had BBQ pulled pork and cheese which was then topped with sour cream and guacamole. Now I'm not the biggest fan of guac, controversial I know! Mr is though so he was quite prepared to eat all the nachos under it but I tried a bit anyway. It was beautiful! I don't think I've ever enjoyed nachos that much!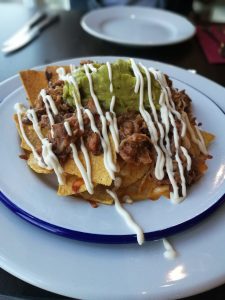 For mains I ordered chicken breast topped with bacon, cheese and BBQ sauce with chips and a side of onion rings (of course!). Mr went for a rump steak and peppercorn sauce.
You don't really expect much from quite simple meals but honestly, it was divine! Both meals were cooked to perfection and full of flavour. The gluten free onion rings were amazingly crispy and the portion was huge! We both struggled to eat everything in front of us but neither of us likes waste!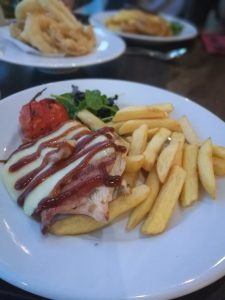 After all this amazing food, not having dessert was just not an option. All but one was gluten free so how could I not! I decided on the raspberry and white chocolate cheesecake and Mr went for a triple chocolate brownie.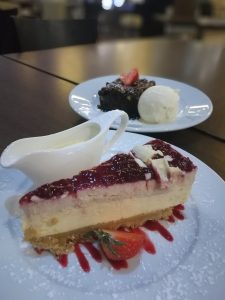 Again, we were not disappointed. We could have burst from how fat we both felt. I polished off my strawberry gin liquor and elderflower tonic and we headed off to the other side of town to the cinema.
Venom did not disappoint either! I didn't really know what to expect as the trailers hadn't given away much of the storyline (which makes a change). Venom is, what is described as an anti-hero, like Deadpool. It was the story of how he came to be and we really enjoyed it! I don't want to give away the story so I'll just say, it's worth a watch and not just for Tom Hardy.
My only bugbear with going to a Marvel film is that people STILL get up and go when the credits start! Why? Have you not learnt there is always at least one teaser? Clearly not. Just so you're aware though, there are 2 at the end of Venom so just wait it out.
We did plan on maybe popping to the pub after the film finished. But then we realised, we don't have the kids, let's go get a good night's sleep instead!!
It's so nice when we do get to spend some time as just us. It's such a rare occurrence these days so we really do appreciate it. The fact we've now discovered our perfect date night destinations is even better! Roll on the next one…. Whenever that may be!