The JoJo Hairbrush Review
We've all heard of or seen JoJo Bows, even if you have no idea who this JoJo is.
Well she's a dancer, just in case you did wonder. She found fame on the American TV series Dance Mom's, which is exactly what her mother wanted for her.
Got to give it to the kid though, she's done well!
Children across the country went mad for JoJo Bows when they were first released and my daughter was no different. She has a couple of different sized ones and they are still worn regularly.
You can imagine her excitement when I revealed the new double sided brush I had been sent!
We had a quick look at how it works then she rushed off to try it. Because of this, I decided she could do the review instead of me!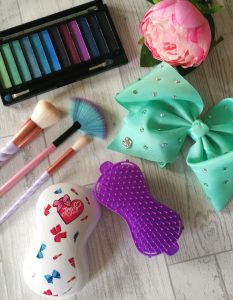 This was of course a genius idea to get me out of writing too much but guess what. 4 weeks later, I am still chasing her for some writing! Who asks a prenager to do a review? What a silly idea!
So here's a review written by me, based on what I've seen and been told about the JoJo hairbrush.
Design of the JoJo Hairbrush
This is clearly designed for young girls. Coming in 5 different, bright, fun colours and patterns. We were sent the White – Hearts and Bows brush.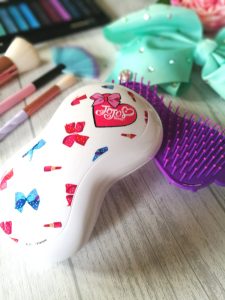 It reminds me of a horse brush because of the shape but it's easy to hold and comfortable to use. It is somewhat nicer to use than a conventional handled brush.
The actual bristles pop out and are double sided. One side is a detangler and the other a normal, bristled brush to smooth hair. The bristles unattach from the body of the brush pretty easily but they do feel secure when you're using it. There's nothing fiddly about it, they literally pop in and out.
The brush is designed so you could store hair pins in it too. An essential item for dance competitions, let me tell you! When the bristles are out, just pop your bobby pins inside and put the bristles back.
Use of the JoJo Hairbrush
Little miss has super thick, curly hair so we weren't expecting it to do much. She tried the detangler side first, after being outside for a day. Surprisingly, the brush done pretty well! Teasing the knots out wasn't too painful and actually took less time than usual.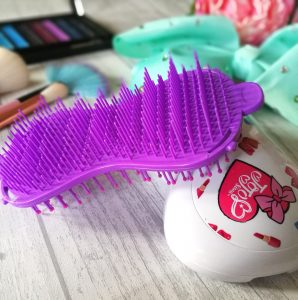 The smoothing side is a pretty regular looking brush and since Miss had already worked out the knots it went through her hair really easily.
She has been using the JoJo brush every day and there's not any signs of wear and tear yet. The pattern is holding out far better than I expected!
Final thoughts on the JoJo Hairbrush
It definitely looks like a brush for kids; bright and plastic. And it certainly appeals to them because it's JoJo and her face is plastered on the packaging. It does work like a good brush should though. It gets through the thickest of hair and with minimal effort.
At £7.99 I think this would make a great stocking filler this Christmas. The JoJo Brush collection is available from Amazon or B&M stores nationwide.
Little Miss's final thoughts – yeah, I like it.
*Facepalm*