Heavenly Desserts Colchester – Dessert For Dinner
I will start by saying, this is not the post I was going to put out today but it had to be done!
If you follow me on Instagram then you will probably have seen that I went to Heavenly Desserts Colchester on Monday (7th January 2019). I took far too many pictures and wanted to say a lot more than Instagram would allow so I had to blog about the experience!
Dessert restaurants have become a massive thing in the last few years and who's really surprised? I know when I go out for dinner I'm usually too full for dessert. I will normally force one down though because, well, dessert!
That reason alone makes dessert places really appealing. There's nothing better than purposely going to eat something sweet without already being absolutely stuffed.
I got invited to Heavenly Desserts Colchester as the branch has only recently opened. There is always a little worry for me, as being Gluten Free can often mean places like this, and sometimes, dessert in general are out of the question. I was reassured that I would be OK though so off we went!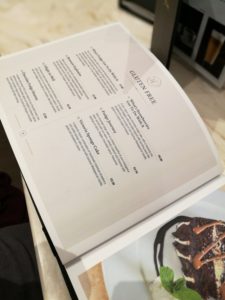 I took my Mum and the toddler along with me and we made a bit of an afternoon of it. A little bit of shopping then desserts…. I can definitely think of worse ways to spend a Monday!
We were greeted at the door and immediately it hits you that this is not your standard dessert restaurant. The staff were dressed really smartly, were super friendly and the décor was beautiful. I know it's a new shop but it was clean and modern but felt welcoming.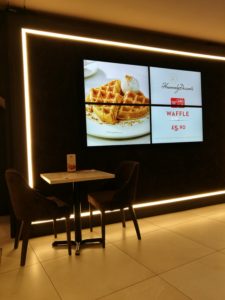 We were shown to a booth and given the extensive food menu each and one for drinks too.
I asked about the gluten free options and was shown exactly which page to look at. I was also offered the allergy booklet but I was more than happy to order straight from the menu. If somewhere has a dedicated gluten free selection then I'm quite happy to believe them!
I had a chat with the managers about the shop and they explained a little about the selection of products and Gelato they have before whisking the toddler and I off to show us the freezers!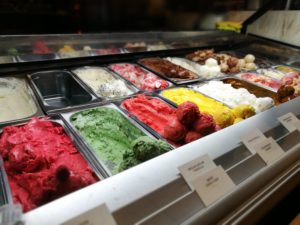 The selection was incredible! We tried a little spoonful of pretty much every flavour thanks to a very excited 3 year old! He was quite literally a kid in a candy store. The staff were really knowledgeable about what flavours were free from which allergens and it was good to know there are some dairy free options too.
My favourite was the Hazelnut Supreme which tastes exactly like a (very missed) Ferrero Roche! This actually influenced my decision when ordering!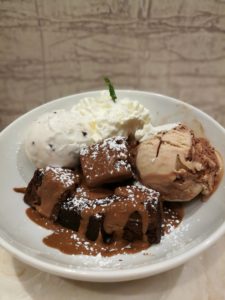 I went for the Brownie Explosion, Mum ordered a Banoffee American Waffle and little man had a scoop of Belgian chocolate gelato and a scoop of strawberries and cream.
Mum and I also ordered a coffee each. I'm always unsure on what to drink when having dessert. The contrast of hot coffee and cold ice cream just seems to work though.
When the desserts came over I couldn't believe the size of them!
Mum's waffle was HUGE! It was thick as well as being the size of a dinner plate. My bowl was just full of big brownie chunks, cream and 2 scoops of gelato all covered with chocolate sauce.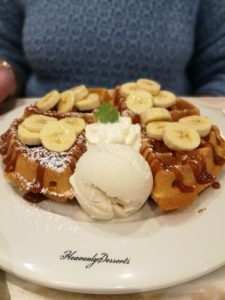 The taste was incredible! I mean, I can make a mean brownie (see my recipe here) but these were like I'd never tasted before!
My Mum is not a dessert person and I was a little worried when I invited her that she wouldn't find anything she'd like. She absolutely loved it! Neither of us stopped saying how good it was while we were eating! The toddler was even sat quietly, happily tucking in to his bowls of ice cream.
The coffee was also fantastic. I had a latte and you could still taste actual, good coffee! I go for latte's because I'm always a little worried about dishwater coffee (see my previous post on more about this!) but this was definitely not one!!
We finished our food and drinks and were absolutely stuffed. I've never felt so full, but not sick, after a dessert. There was no way I was going to be eating dinner that night and Mum said the same!
Before we left I had a look around their retail section. You can buy a selection of different teas that they serve in the shop as well as boxes of handmade Belgian chocolates and bags of the coffee they serve too!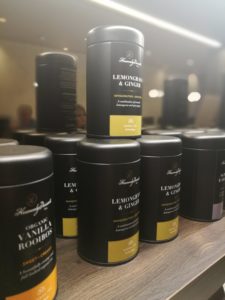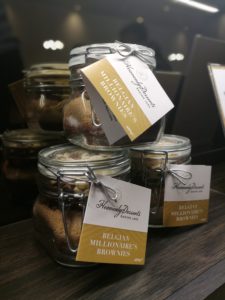 I got a little excited about the coffee and chocolates…. Some came home with me.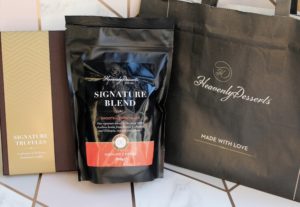 The box of chocolates hasn't lasted long. You can't beat a proper Belgian chocolate!
I had an absolutely amazing experience at Heavenly Desserts Colchester and from speaking to others, the branches around the country are all just as good.
I'd definitely recommend vising if there is one near you. I will be going back and my non-dessert eating mum will be too!
Thank you to the staff and managers at Heavenly Desserts Colchester! You are amazing, and so is the food!