Definitely a favourite in my house is Fanta Chicken. I only used to do this when Mr and I were eating but we've since found out that the kids will eat it too. Which is a big thing with the toddler at the moment! It's a great way of getting extra vegetables into him too!
It is an almost Sweet and Sour tasting dish but without the ton of sugar that the real thing contains! It's such a tasty dish and I easily make mine gluten free by swapping the soy and worcester sauce for gluten free alternatives.
Fanta Chicken is also naturally dairy free.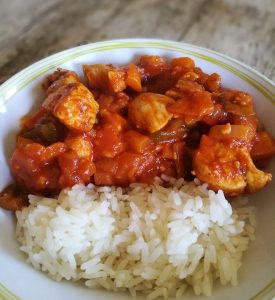 Ingredients (Serves 2 adults & 2 children)
2 large chicken breasts, diced
330ml of Original Fanta Zero (or similar unbranded fizzy orange stuff)
2 peppers, diced
1 onion, diced
2 tsp of Very Lazy garlic
1 tbsp of worcestershire sauce
4 tbsp of tomato puree
8 tbsp of passata
1 tbsp of dark soy sauce
1 tsp of dried mixed herbs
Method
Spray a frying pan with a low calorie cookin spray and warm over a medium/high heat. Add the onions, peppers and garlic to the pan when warm. Cook for around 5 minutes until softened then add the chicken and continue to cook until browned.
Add the Fanta, passata, worcestershire sauce, soy sauce, tomato puree and dried mixed herbs. Bring to the boil then reduce to a medium heat and let it simmer for about 20 minutes or until the sauce has thickened. Make sure you stir it a few times just to stop it sticking to the pan.
Serve with rice or whatever else takes your fancy.
Tried this recipe? Let me know how you got on with it in the comments. You can always Pin the below image and save it for later too.