A Pony Called What? – Product Review
Am I the only person that still has smellies left over from Christmas? Over 8 months later and I still have a few but I'm a little sick of smelling like my Nan's favourite flowery scent.
Again, is that just me that ends up with "lavender" or "white lily"? Don't get me wrong, I love lilies, they're my favourite flower but have you ever really smelt one? If I have fresh ones in the house I spend a good day or so wondering who's done a wee in the kitchen!
Old fashioned smells are something of the past now though. I have swapped out a couple of my current products so I can smell like sweets instead of flower wee.
A Pony Called Steve To The Rescue!
I wasn't quite sure what I'd stumbled upon with a brand name like A Pony Called Steve but I've got to admit, it definitely intrigues you to have a look!
Their website is great, it's pretty but functional and the range of scents and products is just incredible!
I personally chose a soap bar and some body lotion in Pink Lemonade.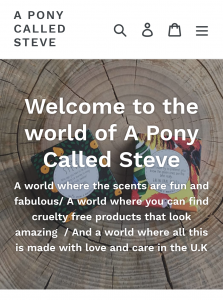 The packaging is stunning. It definitely catches your eye and it looks so much more interesting than a sprig of lavender. It's nice to see that products are changing with the times and the need for pretty packaging is a must in the Instagram era.
They do so much more than soap though: Body Wash, hand cream, solid perfume, candles and all in gorgeous scents like Parma Violets, pear drops or mojito.
The products are all cruelty free, but then a Pony wouldn't exactly test on another animal now would it!
I'm so please with the products I chose. My soap bar is lovely! It looks like a natural slab of soap (which it is) with no odd colourings. The bar foams up quite nicely with a little bit of water and feels gentle on your skin. It doesn't dry it out, which is a problem I can find with most soap bars.
I just wouldn't recommend this to pregnant women with strange cravings…. It honestly smells good enough to eat!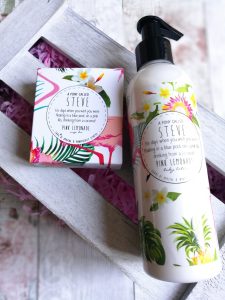 The same goes for the body lotion; that smell! It is absolutely delicious!
The lotion is in a pump bottle which is such a simple but effective touch. There is nothing worse than having a hand full of lotion while trying to put a lid back on a bottle. It looks absolutely beautiful on my dressing table too.
My skin feels really soft after use and that softness lasts all day. The smell has pretty good staying power too and you do just catch a whiff of it every so often throughout the day.
Go check out A Pony Called Steve here and give boring smellies the boot! You won't regret it!