I got asked for my Taco Mince recipe a few times after I posted my dinner on Instagram last week.
I don't make my taco filling overly spicy as the kids both eat it so this is a family friendly recipe… As if I'd do anything but! The toddler has pasta with his though because, well, toddler.
It does have a slight kick but it's definitely not the spiciest thing I cook.
This makes enough to fill 12 taco shells so plenty for the whole family.
I usually serve mine with some rice too, just to make sure everyone is full.
If you want to make this the most amazing Mexican ever, you can always throw together some Homemade Salsa as well!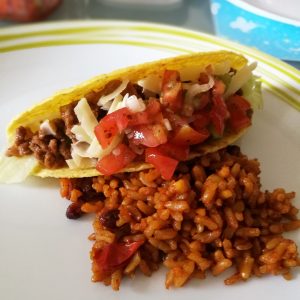 Ingredients
500g of 5% fat minced beef
1 large onion
400ml of beef stock
2 tbsp of tomato puree
2 tsp of chilli powder
2 tsp of cumin
1 tsp of dried oregano
1/2 tsp of garlic powder
Pinch of salt and pepper
Method
Start by dicing your onion. I do mine quite small but only because I'm trying to hide it from the toddler.
Start to warm a frying pan over a medium-high heat and spray with a cooking spray. Once warmed, add the onion and fry for 5-10 minutes until softened. Add the mince and cook till brown.
Once your mince is done, add the chilli, cumin, garlic powder, oregano, salt and pepper then mix well. Pour in the stock and then the tomato puree, giving it all another good stir.
Bring to the boil then reduce the heat to a simmer. Leave it to reduce down for around 15-20 minutes, stirring occasionally just to make sure it's not sticking to the pan.
Once the liquid has all but vanished, you are ready to serve.
This is one of those meals that I just put everything on the table in bowls and everyone helps themselves. Less effort for me to dish up!
Enjoy!