October 18 Glossybox – Halloween Treat Box
I know I say this every month but how is it October already!?
This year seems to have flown by and I have no idea how it's almost over.
But on to the October 18 Glossybox anyway.
October of course means Halloween so there were 2 boxes up for grabs this month. I received the Treat Box and having seen the Trick one, I'd rather have had that but oh well! I still liked this box.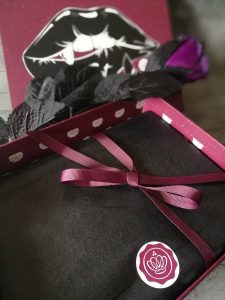 It is definitely a pretty box, there's no denying that! It appeals to my inner goth sooooooo much! Which is also why I'm a little gutted I didn't get the Trick box. That contained darker colours of some of the products which I would have preferred!
So let's have a look at the products I did receive.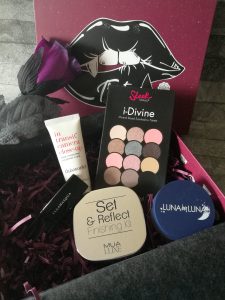 Illamasqua – Antimatter Lipstick – Nebula
This Works – In Transit Camera Close-up
Sleek Makeup – Eyeshadow Palette – Oh So Special
Luna By Luna Cosmetics – Translucent Powder
Makeup Academy – Luxe Set & Reflect Finishing Kit
So let's start from the top!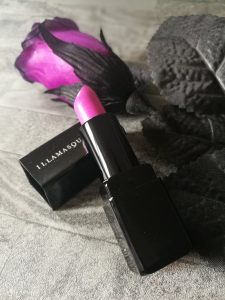 Illamasqua – Antimatter Lipstick – Nebula
This is one hell of a colour! It is quite possibly the brightest pink I've ever seen…. But I love it!
The Trick box came with a purple and I think that would have been right up my street but I love this colour all the same.
It looks awesome teamed up with smokey eyes or just with a bit of an eyeliner flick.
It lasts really well, so well in fact that it's actually quite hard to remove. It did stain my lips slightly but it had come off completely by the next morning.
I've definitely found a new favourite and I'd stretch to £20 to replace it when it runs out.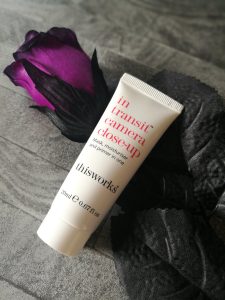 This Works – In Transit Camera Close-up
This is a lot of things all in one little tube. It's a mask, moisturiser and primer!
I definitely wouldn't replace my usual moisturiser with it and I don't really get how it's a mask but as a primer it's fantastic! It leaves quite a matte finish so perfect for applying makeup on to.
My makeup has lasted really well when using this too. I tend to have slightly oily skin and my makeup can melt after half a day. I've not had that problem using this though so I'm pretty impressed!
The price is a little steep for my liking. The Deluxe Mini that I got sent is £17 and a full size is £40! Still, it is a good product so worth a try with the mini size.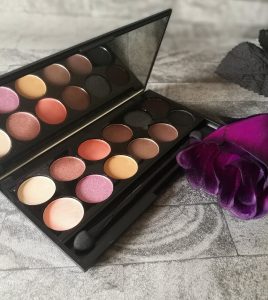 Sleek Makeup – Eyeshadow Palette – Oh So Special
If you've read my previous Glossybox reviews then you will know, I am not a Sleek fan. I have a couple of pallettes now, I've even given one away to my 11 year old daughter. I find their makeup to be lacking in, well, anything. This palette is no different.
I don't like most of the colours and the ones I do like are pretty similar to other pallettes I own that are better quality.
The pigmentation is pretty much non existent in half of them and they're horrible to try and blend.
At £8.99 I can DEFINITELY recommend a better eyeshadow palette.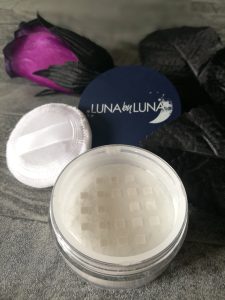 Luna By Luna Cosmetics – Translucent Powder
I know it's a Halloween edition box but wow…. This powder is WHITE! It's far too pale for my skin! And I think even Dracula would have a tough time using it.
I tried using it to do a bit of contouring when I went out at the weekend and it didn't go too badly. It comes with an old fashioned puff, sponge applicator but this does not help in the slightest. I'd definitely recommend using a powder brush so you have a finer layer.
This won't be a powder I'll be using very often though, if at all. At £17 it's not something I'll repurchase either!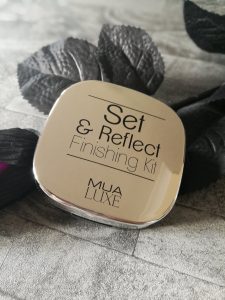 MUA – Makeup Academy – Luxe Set & Reflect Finishing Kit
So, I photographed this and then realised there was actually 2 layers to this compact! The bottom layer is a setting powder and the top is a speckled highlighter.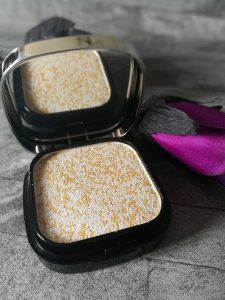 The setting powder is again, quite pale. Not as pale as the previous one though and actually it makes for a great top coat over foundation and doesn't look like you're going to a Halloween fancy dress party. It works best with a quick sweep of a powder brush.
The highlighter is just gorgeous though. It gives a nice glow without looking glittery. And for £5 you really can't go wrong! I am a fan of MUA most of the time though. They offer pretty good quality for that kind of money!
So that was it for the October 18 Glossybox! I know this box has completely sold out so you won't be able to get your hands on it now. If you do fancy giving November's a go though then click this link and get 20% off your first box! https://www.glossybox.co.uk/referrals.list?applyCode=CARLY-R25
I can also reveal that November's does include a cult classic which I'm very excited about….. A full size Liquid Matte Lipstick from HUDA!!!!
If that doesn't make you want it, then I don't know what will!
See you again next month.