December 18 Glossybox Review
I thought I'd better get this review in before the New Year! And before January's box gets sent out.
I missed doing November's review as I just never got round to it. There were so many other ideas running around my little head that Glossybox took a bit of a backseat.
I managed to get some nice photography of the products this month so I really wanted to post them! There were also some really nice products in the box this month.
The box itself was beautiful. A red and gold theme with "All That Glitters" on the lid. It definitely felt Christmasy and even more so when I realised it matched some of my decorations.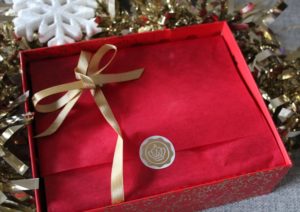 The products inside this month were:
Imperial Leather – Cosmic Unicorn Shower Gel
Maybeauty – The Incredible Pore Strip
Beauty BLVD – Divine Hydra-Gel Lip Mask
Bella Pierre Cosmetics – Shimmer Roll
Niko Pro – Liquid Jelly Blush
Doucce – Relentless Matte Lip Crayon
Well, let's start from the top shall we.
Imperial Leather – Cosmic Unicorn Shower Gel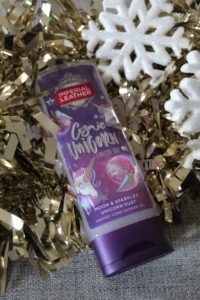 I can't really review this that well. Simply because, it went to my daughter. I can't keep anything unicorn related with an 11 year old around.
I did get chance to smell it, it's not quite to my taste as it's pink grapefruit based which I'm not a fan of. It is pretty and glittery though and at £1.99 it's any unicorn lover's dream.
MayBeauty – The Incredible Pore Strip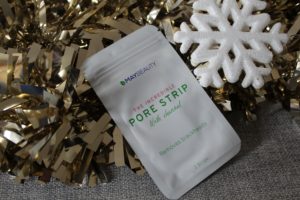 This was an extra treat this month. I haven't used a nose pore strip for a long time! I don't get too many bad blackheads on my nose. This was simple to use though, just dampen the skin and apply the strip.
Peeling it off once it had dried was a little painful but these things always are! I did notice a couple of little white bits attached to the strip but mostly it was just skin. Dead skin, not my actual skin, though it did feel like it had been ripped off.
I wouldn't buy them again myself as I don't really have a use for them. £3.50 for two strips really isn't bad though so I'd definitely recommend them.
Beauty BLVD – Divine Hydra-Gel Lip Mask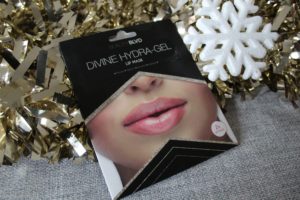 You know how you always feel a little bit of a muppet with a sheet mask on? No? Just me? Well I do, which is why I mainly do them when I'm in the bath or when taking some "me" time.
Well I felt like even more of a doughnut than usual with this one on. It literally just covers your lips and looks like a toddler applied your lipstick. It feels really odd too. It's like a little jelly mask. It almost reminds me of the lip sweets you used to get when buying penny sweets from the local newsagent.
It does work though! My lips had taken a battering thanks to the weather and trying to wear matte lipstick was a big no. This mask made my lips feel a lot softer and actually, I've not had a problem since! It's made a nice change no to have cracked lips all winter.
These cost £7.50 for 2 lip masks which I think is great value if your lips are in need of rescuing.
Bella Pierre Cosmetics – Shimmer Roll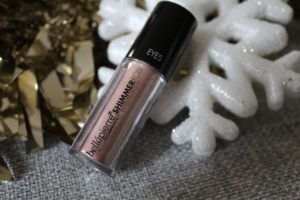 When I was younger I had something very similar to this. It wasn't quite as grown up but it takes me back. It's basically a highlighter in a glass tube with a roller ball attached.
It is a beautiful colour though, a champagne with a really nice shimmer. Given it has a rollerball applicator, it's really easy to apply. Just swipe and go. It can be used anywhere too, eyes, cheekbones, wherever needs a little sparkle.
I think £19.99 is a little high for such a small product but it is beautiful. Worth it if you're treating yourself!
Niko Pro – Liquid Jelly Blush – Bali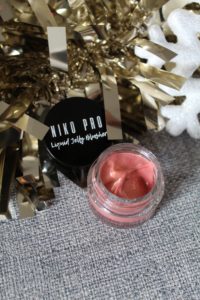 I really liked this product. It's a mix between a blush and a highlighter. It gives your cheeks a nice flushed colour but with added sparkle.
A little goes a long way so £12 is a really good price. Unfortunately for me (and the product review I suppose) the lid has broken on it! Like, completely separated the top from the thread. It went from the Glossybox to my dressing table drawer so I have no idea what happened. I've tried to stick it back on but it's not worked and has already dried the product out.
Oh well, I got a couple of uses out of it.
Last but by no means least….
Doucce – Relentless Matte Lip Crayon – Winterberry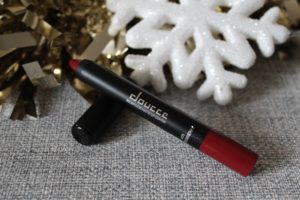 By far my favourite product this month! I love a lip crayon. They're so easy to apply and they seem to last a lot longer than a standard lipstick.
This one is such a perfect colour for this time of the year too. It's a bold, deep red that can be worn easily either day or night.
I wore this going out for lunch and barely had to reapply it after eating and drinking. Though it's a matte, it doesn't dry out your lips. I feel like it's more of a satin with the way it looks on.
My only issue is the price tag. £16.95 is a bit much for a lip crayon in my opinion so I wouldn't repurchase.
Overall, I really liked the December 18 Glossybox and there's not 1 item I would say I didn't like.
If you want to get your own Glossybox then click HERE and get 20% off your first one.
I've been getting this box for a year and a half now and I can honestly say it's the best £10 a month I spend!
Well, that's it for 2018! Thanks for reading and I'll see you all again in 2019.