The Toddler Years – An Interview with a toddler
So this is the last post in what has been a great series! I'd really like to thank everyone who has joined in and to those of you who have read it all. I will list every post at the end of this one so if you haven't read them all, you can!
I've thoroughly enjoyed having guest posts from such amazing people on my blog. It's definitely something I'll do again.
I felt like I needed to close the series myself though and my sister actually gave me the idea for this. So here it is!
An Interview With A Toddler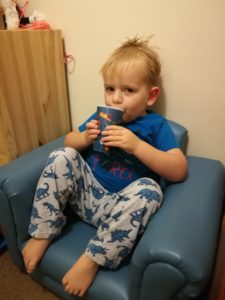 What is your name?
Charlie
How old are you?
I'm old. I'm 2.
Where do you live?
In a house.
Who lives with you?
Mummy, Daddy, Chloe but Chloe's not here (she's at her Dad's)
What is your favourite colour?
Red! My colour is red.
What is your favourite toy?
Hoover. (He hasn't had his toy hoover out for about a year!)
What is Mummy's job?
You do the hoovering! (I do do it a lot at home but it's not my job.)
What is Daddy's job?
Daddy's name is Scott. "But what does Daddy do as a job?" *Looks confused* Hoovering?
What do you like to do?
Nothing. I'm going to do nothing.
What is your favourite song?
Christmas Pudding (he's been learning it at school.)
Who are your friends?
Daddy is my friend.
What makes you happy?
I'm sad.
What makes you sad?
I can't play sticklebricks. (He says with sticklebricks in his hand.)
What's your favourite food?
Pasta
Which food don't you like?
Cucumber
What do you want to be when you grow up?
I can't grow up!
What is your favourite book?
Jingle Bells on it.
"But that's a song." *Looks at me blankly* "Does school have a book?" *Ignores me*
What do you like to do with Mummy?
Hoovering!
What do you like to do with Daddy?
Hugs.
What do you like to do with Chloe?
Cuddles!
*Runs off and cuddles her*
Who do you love?
Mummy and me. And Christmas Ted.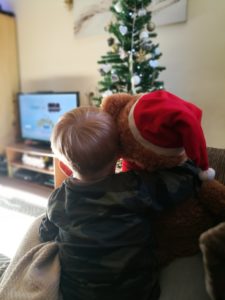 These questions were asked over the process of a few days. Trying to get a straight answer out of a nearly 3 year old is quite trying. He was obsessed with hoovering the first time around so I had to give up. The funniest thing is, he's genuinely petrified of the hoover!
Even with a second round of questioning the hoover came into it. I'm starting to wonder if I hoover too often!
It was fun trying to get some answers out of him though! Why not give it a go with your children or even try some different questions. You never quite know what to expect with their answers.
To go back and read the previous Toddler Years Posts then follow these links:
A Series Of Tales And Tantrums – Carly
An Open Letter To My Mini Dictator – Shan
What's With All The W's? – Phil
I Wrote A Post, Forgot The Title – Scott
Thank you so much for reading the series and I hope you enjoyed it. I may well revive it again at some point in the future as it has been great fun!