Form New Skincare Habits During Lock Down
Do you keep meaning to start looking after your skin but just can't seem to find the time? Why not form new skincare habits right now! What else have you really got to do?
You're not leaving the house apart from to shop for essentials and to get your half hour of exercise. And let's face it, no one is getting close enough to realise you're not wearing makeup!
I don't think there is a better time to form new skincare habits, personally.
I've had a proper skincare regime in place for a good few months now. It did take some getting used to and my other half laughs about all the products and potions I have on my dresser. They are all there for a reason though and all do different jobs. My average morning consists of a 6 step routine and night is usually the same.
Mine may be a little over the top for you but I'm going to give you some information on some of the slightly more random things I use. I have come a long way from where I used to be but my skin shows it!
I know we're currently in lock down so getting some of these products might be a little harder than usual. Everything is available online though and skincare is an essential! (Please don't @ me, I do understand delivery drivers are already busy!)
Form New Skincare Habits During Lock Down!
Find a good scrub!
I think a decent scrub is an essential part of a skincare routine. It gets rid of the dead cells and leaves you with beautiful glowing skin. If you are doing your face though, make sure it is one designed for the job. Body scrubs are a lot coarser and will damage the thinner skin on the face.
I have a good recipe for making your own body scrub if you want to make it at home. Just click here.
A good face scrub should be fine particles or my favourite is this one from The Body Shop: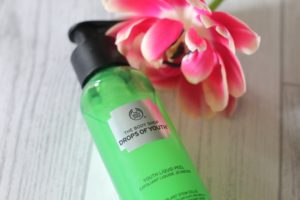 I've actually reviewed one of these liquid peels before. This is the 2nd one I've tried and I love it as much as the 1st. They're gross but absolutely amazing! It starts out as a gel which you apply to dry skin. As you rub it in small balls start forming and dropping off…. That's your dead skin! I love the way my face feels after. All nice and smooth and ready for more treatments!
Toners are life.
The classic skincare routine was always cleanse, tone, moisturise. This is still totally relevant but there are a lot more steps these days. A good toner is an essential when you form new skincare habits though. It used to be a step I missed until I found the Pixi Glow Tonics. I still use Glow Tonic of a night time but for my morning routine I'm using this Vitamin E one from The Body Shop. (Yes I am a little obsessed with The Body Shop).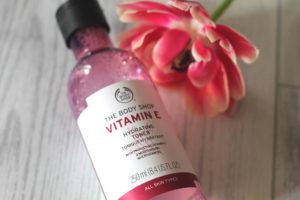 Vitamin E has anti-aging properties and promotes healthy skin. I find this toner moisturises along with removing any left over debris that cleansing may have left behind.
Retinol!
If you're over 30, like me, then retinol is your new best friend. This is the latest tool in my kit bag and I'm a little obsessed. If you're going to form new skincare habits then this is the one to form!
Retinol is Vitamin A and it reduces fine lines and even skin tone. It can be irrative so you need to be careful but I love this one from The Ordinary.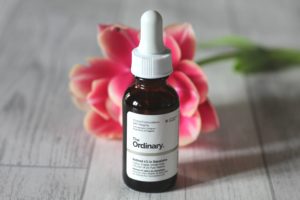 You do need to make sure you are using a decent SPF but let's face it, we're not exactly outside for long at the moment!
Treat yourself with Face masks.
I love a good face mask. There's quite a collection in my stash at the moment. From sheet masks to peel off masks and wash off ones. They all do a variety of things too.
I use masks at least once a week but it depends what I'm doing at the time as to which one I use. I don't always have enough time to lay down with a sheet mask on for 20 minutes. This is where the pots and sachets of "slap it on, wash it off" masks come in. I can wander around the house while treating my skin.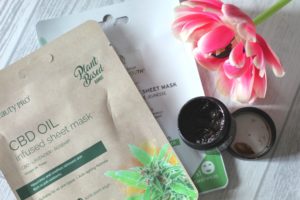 My current favourite is the Coffee mask from Body Shop. It smells amazing and leaves my skin feeling soft and polished. There's some really fun sheet masks out there with different characters on if you're up for a laugh. Face masks are a good way to get a bit of self-care time in too!
I could go on and on about skincare but I won't. It is important to take care of yourself, especially at times like this. It's weird and we don't know how long we're going to be stuck inside for. Emerge from quarantine like a butterfly! Form new skincare habits while you have chance!