I was tagged by the lovely Hannah Elizabeth to join in with Random Facts About Me. I love these kinds of posts and learning things about the blogging community you wouldn't necessarily find out any other way.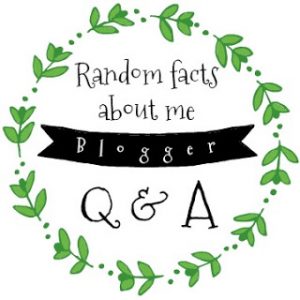 Make sure you go and give Hannah's Random Facts responses a read by clicking HERE
When was the last time you cried?
My daughter's last day at primary school. I was at an assembly and was fine until I noticed one of her friends bawling and that set me off.
If you were another person, would you be a friend of yourself?
I think so. I'm not the most sociable person but I think I'm nice so I'd probably be my own friend.
Do you use sarcasm a lot?
Not at all……. Maybe a bit too much at times.
What's the first thing you notice about people?
I've never really thought about that before, I suppose it depends on the circumstance. Mostly though, I'll always pick up on a smile first. I'm quite good at being able to tell if they're genuine or not.
Scary movies or happy endings?
I'd rather watch a comedy to be quite honest but happy endings if I have to choose.
Favourite smells?
Vanilla, that earthy smell that appears during a storm and fresh coffee.
What's the furthest you've ever been away from home?
The Canary Islands, I haven't travelled far.
Do you have any special talents?
Not anything special. I'm pretty darn average at just about everything.
Where were you born?
In the same town I live in now, Clacton-on-sea in Essex.
What are your hobbies?
Blogging mainly but I also like crafting and playing computer games (when I get chance).
What did you want to be when you grew up?
I still don't know what I want to be when I grow up…. I actually wanted to be a make up artist, I'd still quite like to do that.
How many countries have you been to?
7 I think….
What is your favourite drink?
Coffee…. Which reminds me…. *Goes and puts kettle on*
What would you, or have you, named your kids?
I've kind of accidentally done a Kardashian thing and my children are called Chloe and Charlie and I'm obviously Carly…. Total accident! If Charlie had been a girl he would have been Florence though.
Who are your favourite YouTubers?
Casey Neistat, Peter McKinnon and Safiya Nygaard. All totally different in what they do but all equally brilliant.
How many boyfriends/girlfirends have you had?
Enough.
Favourite memory from childhood?
Making up dances to the Spice Girls in the garden with my sister and our neighbour.
How would you describe your fashion sense?
Mum-like. Comfort then style!
Tell us one of your bad habbits?
I have a bad habbit of not finishing things: crafts, blog posts etc. One day I will get out of that habbit, I hope!
Well that's some random facts about me that you probably didn't need or even want to know! Hehe. I'm going to tag some other bloggers on Twitter to join in if they want to and if you want to learn more random crap about me then there are some more on this post HERE.
Thanks for reading!