Classic Flapjack has always been one of my favourite cakes and one of the only things I have ever been able to bake without completely ruining it (baking is not my forte). This is actually my mum's recipe that I've adapted slightly but I do still make it her way too. The only difference is I use honey and she uses golden syrup but they don't really taste any different.
I used blueberries in my latest batch as I had some wrinkly ones in my fridge to use up but you could leave them out or use different fruit. I'll keep the recipe simple and do it for plain flapjack but do let me know if you experiment.
If you have an issue with gluten then make sure you're using gluten free oats. This will reduce any chance of making yourself ill.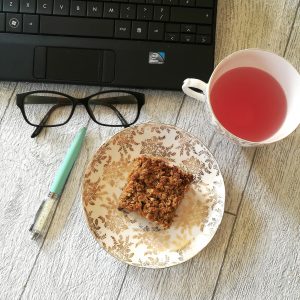 Ingredients
340g of oats
120g of butter
120g of soft brown sugar
3 tbsp of runny honey
Method
Add the butter and sugar to a large saucepan and melt together over a low heat. Add the honey and continue to stir well until everything is completely combined. Take the mixture off the heat and gradually add the oats. Keep adding and stir well making sure they are completely coated. Once all the oats are in and everything looks well combined (and your arm aches a bit), spoon the oats into a greased cake tin. I actually use a small(ish) ceramic lasagna dish sprayed with Frylight which works perfectly.
Make sure you have an even layer of oats then pop them in a pre heated oven on 170°c for 20-25 minutes.
The top should have started to brown when ready but be careful as they can burn easily. Then remove them from the oven and leave to cool for around half hour before you attempt to cut it up and remove them from the tin. They come out of the oven really soft still so you need to leave them to cool properly.
Once cooled, portion it up however you see fit. I made 8 slices from mine but you may have used a bigger tray and made thinner ones.
Enjoy!