Epic Bacon Cheeseburger – Better Than A Takeaway!
My Epic Bacon Cheeseburger is one of my favourite Fakeaways.
I do a couple of different burgers with different fillings but the main burger meat is always the same and it tastes amazing! My toddler eats pretty much everything we eat so none of my recipes have salt added to them, I don't feel they need it but add away if you do.
My Epic burger is of course a double but you can make the burgers and freeze them for another day. I done this recently and it saved so much time when I was in a hurry!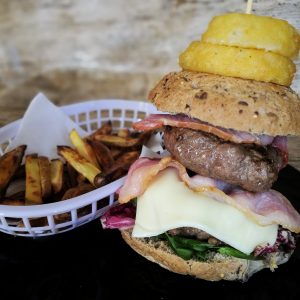 Ingredients (Serves 2 or 4 if you do single burgers)
350g of 5% fat lean beef mince
1 tsp of onion powder
1 tsp of garlic powder
1 tsp of mixed dried herb
Pinch of pepper
Wholemeal rolls
4 Bacon medallions
Plastic cheese slices
Salad for garnish
Method
Pop the mince in a large mixing bowl and add the onion powder, garlic powder, pepper and mixed herbs. Then get your hands in it and squish the meat while mixing the seasoning through.
Separate into 4 equal portions and roll them in to balls. Flatten out the balls with you hands while still shaping them to make them circular. Leave them quite chunky but not too much that they won't cook through.
Heat up a frying pan sprayed with cooking spray to a hot heat. Once it's hot enough, place the burgers into the pan. Meanwhile, grill your bacon medallions until you're happy with the way they're cooked (I like mine on the crispy side) and start building up your bun.
Give the burgers about 5 minutes on 1 side before you turn them over then give them another 5 minutes. Cooking time depends on the thickness of the burgers but they're beef, if they're a bit pink in the middle it won't matter, they'll just be juicer.
Once the burger has cooked to your liking, place it on top of the salad in your bun, bacon on top of that then top with a plastic cheese slice. If you're doing doubles then add the layers again and have skewers at the ready to pin in to place!
Serve with homemade chips and some onion rings and enjoy! If you don't make a total mess then you haven't done it properly!