Easy Peasy Spaghetti Bolognese
Spaghetti Bolognese is a family classic and everyone has their own way of doing it. I love mine filled with veg and because it's chopped up quite small even the toddler eats it without much fuss.
Easy Peasy Spaghetti Bolognese really is just that though. Once upon a time my Bolognese would have been made with sauce from a jar. This way is just as easy though and far healthier! There's no added salt and there's so much veg in it.
I have my Easy Peasy Spaghetti Bolognese with gluten free pasta and the Bolognese is naturally gluten free.
I also enjoy having it with courgetti (spiralised courgette) that's been stir fried for a couple of minutes if I don't fancy stodgy pasta.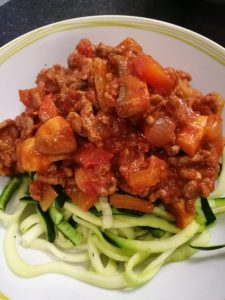 Ingredients (Serves 4)
500g of lean beef mince
1 large onion, diced
1 red pepper, diced
100g of button mushrooms, quartered
1.5 tsp of Very Lazy Garlic
1 tin of tomatoes
Half a carton of passata
3 tbsp of tomato puree
1 tsp of dried mixed herbs
1 tsp of dried oregano
2 bay leaves
100ml of water
Method
Cut up all your vegetables, making them whatever size you like. Mine are usually quite fine so the toddler doesn't notice them too much.
Warm a large, high sided pan over a medium heat. Fry the onion and garlic in a few sprays of cooking spray for about 5 minutes until softened.
Add the pepper and cook for a minute or so. Then add the mince and fry till the mince has browned. Drain any excess liquid.
Add the dried herbs, the tinned tomatoes and the passata and stir thoroughly. Next, add the water and tomato puree and stir again.
Pop the 2 bay leaves in and then bring to the boil. Stir in the mushrooms, reduce the heat and simmer for around 20 minutes, stirring frequently.
The liquid have reduced and thickened up quite nicely. Remove the bay leaves then serve with spaghetti or courgetti and enjoy!