Lemon Drizzle Baked Oats are another combination that I love!
Another day, another baked oats recipe.
I have so many different combinations for these now but I only share the best ones. I always make them a couple of times before I post just to ensure they're good! What are your favourite combinations?
If Lemon Drizzle Baked Oats don't quite take your fancy why not try Melt In The Middle Baked Oats or Caramel Apple Baked Oats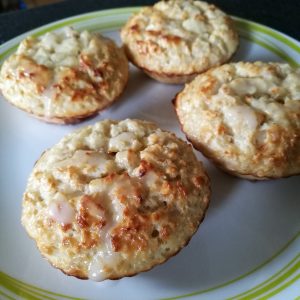 Ingredients (makes 4)
40g of oats
5 tbsp of low fat lemon yoghurt
1 tsp of lemon juice
2 tbsp of sweetener
1 egg
1 tsp of icing sugar
Couple of drops of water
Method
Baked oats are one of the easiest recipes I make.
Add the oats, yoghurt, sweetener, lemon juice and the egg to a bowl and mix well.
Separate the mix evenly in to 4 silicone cupcake cases (they will stick to paper ones). Pop in the oven on 180° for 25-30 minutes or until the tops have browned.
Take them out and let them cool for 5-10 minutes. While they are cooling mix the water and icing sugar together to make your icing then drizzle it over the top of your baked oats.
Mine were still warm so the icing melted in to the oats and went most of the way through.
You can always let Baked Oats cool and just have them as a snack. I find them filling enough to make a good breakfast and they never make it past 10am!