Simple Tomato And Basil Soup Recipe
October is here and so is the winter weather. Is it just me or do we seem to have gone from summer straight into winter? We've just skipped autumn this year. Or with the way this year is going, maybe autumn will come in December? Either way, it's cold and miserable so that means it's time for my favourite food…. Soup! I decided to keep it classic today and make a simple tomato and basil soup.
I couldn't find any fresh basil in the shops which was a little annoying but dried worked just fine. One day I really would like my own little herb garden but my dog would eat it! I tried growing them on the windowsill in my kitchen but I think there was just too much light. Yes, plants don't like direct sun!
But as usual, I digress. This is a really simple tomato and basil soup recipe and is the basis of my chilli bean soup. My other half actually requested this as he isn't keen on chunky soups (my favourite type!) and I expected him to chuck Worcestershire sauce in. He didn't though so I feel quite privileged! I do like to get his opinion on my recipes. I then know it's not just me being biased!
You will need a stick blender for this recipe. If you're using a proper blender then be sure to let the soup cool before you blend. I didn't know this but my friend informed me, it can explode in a blender if still hot. Who knew? And quite frankly, I don't want to test it, or have any of you test it!
This recipe is, gluten free, dairy free and vegan so good for everyone! Not Fodmap friendly though I'm afraid. I wouldn't even know where to start with a fodmap diet.
Ingredients
2 400g cans of chopped tomatoes
1 litre of boiling water
2 vegetable stock cubes
1 onion
1 clove of garlic
3 Tbsp tomato puree
1 tsp dried basil
Pinch of salt and pepper
Tiny pinch of sugar if required
Method
Start by roughly chopping your onion. It doesn't matter how you do this really as you will be blending it anyway. Just not too thick as you want it to cook.
Warm a large saucepan or stockpot over a medium high heat on your hob. Spray the pan with a little spray oil just to ensure no stickyness. Once warmed sufficiently, chuck in your onions and fry them off for a couple of minutes.
Add the garlic. Now, I've put 1 clove of garlic but I use Lazy Garlic because I am just that. 1 teaspoon (tsp) usually equates to a clove so that's what I used. Fry the garlic with the onions for 3-5 minutes until the onions are looking soft.
Next, you add the 2 cans of tomatoes, the water and the stock cubes and give it all a good stir. Then add the tomato puree and again, give it a stir.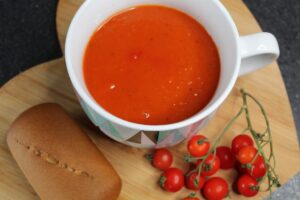 Next in is the basil, salt and pepper. You can season according to your taste but just a little of each really brings out the flavour. As for a pinch of sugar, this entirely depends on your taste. I found mine was a little tart so a tiny pinch of sugar just sweetened it slightly. You may not need it but this is why I always taste my food as I'm cooking.
Give it all one last stir, bring to the boil then let it simmer away for around 25 minutes.
When your 25 minutes are up and the soup is looking thicker, remove from the heat. It's time to blend.
You should probably leave it to cool but I'm a rebel (and hungry) so I do it while it's still hot. Blend using your stick blender until smooth. Mine still had a little texture to it but I think you'll always get that with homemade soup.
And that's it! Your simple tomato and basil soup is ready. Now, you can either return it to the heat if you've left it to cool or serve immediately. The choice is yours. As usual, I served mine immediately but then it went cold as I had to photograph it!
Let me know if you try any of my recipes. Tag me on Instagram and I'll share it on my stories!