I've recently tried a supermarket's own tinned Mexican Chilli Bean Soup and my first thought was "I can make this better".
Actually, I've tried a couple from different supermarkets. Some containing chicken too. They were OK but I was more shocked when I read the ingredients on the tins. The amount of salt is shocking and one even contained hydrogenated fats….. Why?! Why does soup contain man made fat! There's just no need for it. And a good soup shouldn't need ridiculous amounts of salt either.
I prefer a thicker soup to a watery, stock based one so my recipe for Mexican Bean Soup is done in two parts. The first being the soup base and second adding the chunky bits.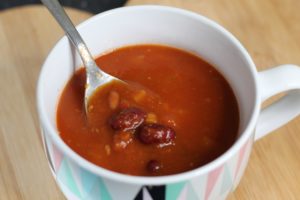 It is of course Gluten Free but I've also made this Vegan friendly too. I'm trying to make an effort to consume less meat and I always manage it better with things like this!
You will need a blender or stick blender for this Mexican Bean Soup and if you fancy something different then why not try my Carrot & Coriander or Chunky Vegetable Soup.
Ingredients (Serves 5)
2 tins chopped tomatoes
1 and a half onions
1 clove garlic
Litre veg stock
Tsp chilli
Tsp smoked paprika
2 tsp cumin
Dried chilli flakes
1 Bay leaf
Tin taco mixed beans
Tin of kidney beans
Method
This is relatively simple to make but it is a little bit of faff due to doing it in 2 parts. Trust me, it's totally worth it though!
So to start we're going to make a tomato base. You can just make this if you fancy but adding the beans makes it a more substantial meal.
Start by chopping your onion. You will use one in this part of the soup and the other half will be used in the second part. I tend to keep half a diced onion in the freezer so this came in handy.
Warm a big stock pan or large saucepan over a medium/high heat and spray with some cooking oil. When warm, add the onion and fry for a couple of minutes then add garlic. Continue to fry for another couple of minutes until the onions have gone almost see-through.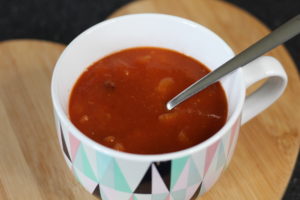 Add the tinned tomatoes and the stock and give it all a stir. Add the paprika, chilli powder and cumin then as many dried chilli flakes as you fancy. I didn't add many to mine but it gave it just enough of a kick!
Add the bay leaf and give everything a good stir again. Bring to the boil then reduce the heat and simmer for 15 minutes.
After 15 minutes, remove from the heat and leave to cool for 5 or so minutes. Find the bay leaf and fish that out and throw it away.
Now you're going to make this part of the soup smooth. I use a stick blender as I find these much easier and you don't have to wait for your food to cool to use it! Unlike a big blender which probable won't hold this much soup either. But anyway… blend until the soup is smooth.
Return the pan to the heat and add your tins of beans and the other half an onion. Again, bring the soup to the boil then reduce to a simmer for 15 minutes.
Voila! A protein packed, healthy Mexican Chilli Bean Soup with reduced salt and no man made fats in sight!
I took a portion of this soup into work for one of my colleagues and she said she enjoyed it so that's a win for me. Let me know in the comments if you give this a go or tag me on Instagram! I love seeing people making my recipes.