Slow Cooker Pepperpot Stew
I love a slow cooker meal, and Pepperpot Stew is definitely one of my favourites. Slow cookers are just so handy for busy days and you can make perfect wintery stews. This particular stew is full of flavour but with a slight kick. The kids enjoy it too so it shows it's not too spicy. You can make this with beef or pork, both taste great but I prefer pork.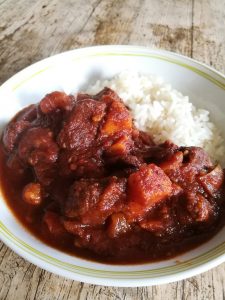 Ingredients (Serves 3 or 2 big people and 2 little people)
500g of diced pork, fat removed
2 peppers
1 sweet potato
2 tsp of Very Lazy Garlic
Half a carton of passata
200 ml of water
1 beef stock cube
3 tbsp of tomato puree
2 tbsp of Jerk seasoning
2 tbsp of worcestershire sauce
1 tbsp of balsamic vinegar
1 tsp of sweetener
Method
Dice the peppers then peel and cube the sweet potato (quite large chunks so there's still something left after cooking). Add them to the slow cooker. Next, add the pork and the garlic, draining some of the vinegar from the garlic as you spoon it from the jar. Add the rest of the ingredients in any order and mix well. Put the slow cooker on low and leave it to do its thing for 7-8 hours. I do give it a little stir every couple of hours or so if I'm at home but if not then it will still be fine. Ive made this plenty of times where ive spent all day out.
Serve with rice or just have a big warming bowl on its own.
It's really that easy!
Pepperpot Stew takes a little bit of prep, mainly because of the sweet potato. It's so easy apart from that though.
To make this recipe gluten free, just replace the Worcester Sauce. You can buy a gluten free one from any good supermarket.
Have you tried this recipe? Let me know in the comments below.