This isn't my usual kind of recipe as Banana Bars is actually a baby led weaning one. Most of my recipes are child friendly and don't contain any nasties but these literally contain 2 ingredients and are perfect for little fingers.
I've made them for my friend's children too and they've all really enjoyed them. Most adults are not a fan as they're not sweet enough for them but little ones love them. The natural sugar from the banana is just enough for them and go down a treat.
You can always add dried fruit too if you wanted to mix it up a little. Or if you are being a little naughty, chocolate chips!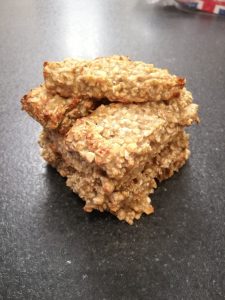 Ingredients
Yes it's really that simple.
Method
In a large bowl mash your banana with a fork until it's smooth. Slowly add oats to the banana. I can't tell you how much as it really depends on the size of the banana so just keep adding oats until you can't see clumps of banana anymore, it should look like this: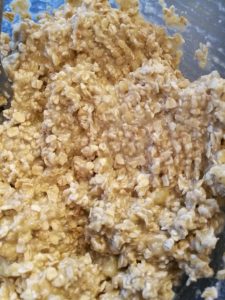 Spray a baking tray with spray oil and add the mixture to the tray bit by bit, moulding them into bar shapes like this: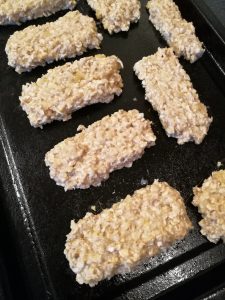 Pop them in the oven at 180° for about 10 minutes then flip them over and give them another 5 minutes. Remove them from the oven and leave to cool.
They can be frozen if you want to batch cook a load but if not, they need to be eaten within a few days. They store just fine in a sealed container.
For a more adult version, why not try my classic flapjack recipe instead. This too can be altered with dried fruit and chocolate chips but it's a lot more sugary than the Banana Bars.
Enjoy!