I've finally made my way through the items in my Glossybox this month so it's time to do my review. Here's a recap on what was in the box of treats this month: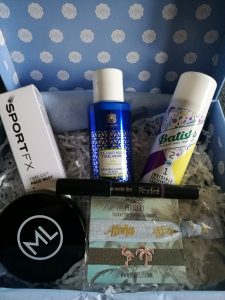 SportFX face mist + fix
Model Launcher safari bronzer
Valquer ice hair mask
Rodial suede lips
Batiste dry shampoo and conditioner
Purelei bracelet
So let's start at the top of the list.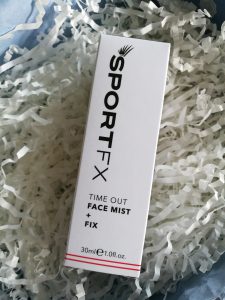 SportFX Time Out Face Mist + Fix
I received a SportsFX double ended makeup brush a few months ago and I absolutely love it, I use it every day. This is another thing that I am now using every day! I went to a wedding last weekend and usually my makeup would have melted off my face before the evening starts but I used this face mist as a primer under my foundation and then on top to hold it in place and blow me down, it actually worked! My foundation always goes patchy by the afternoon where I have combination skin but using this really helps. It also contains a menthol essence so it's really refreshing and gives your skin a bit of a wake-up call first thing in the morning. This retails at £5.99 and I would say it is definitely worth it.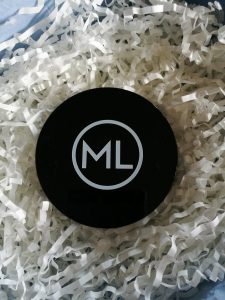 Model Launcher Safari Sun Bronzer
This bronzer has the cutest pattern on it and I think my daughter was truly hoping I wouldn't like it so she could have it!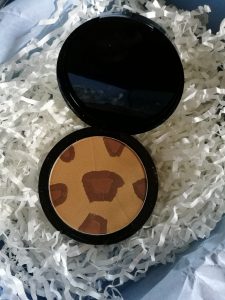 Unfortunately for my daughter, I really like this and the colour is really nice. It's slightly more orange than my usual bronzer but I use that for contouring now as it's matte and this one has a nice shimmer to it. My only complaint with this is that it doesn't have a mirror, the amount of times I have gone to apply it and then realised I can't see my face in the lid is ridiculous! Apart from that I really can't complain, I don't think I'd buy it again at £16.50 as there are a lot of cheaper brands with a similar pattern and I'm in a limited budget.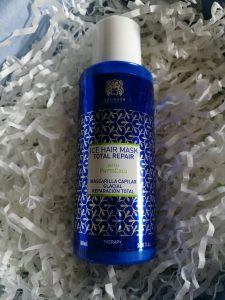 Valquer Ice Hair Mask, Total 
I do love soft, shiny hair so was looking forward to trying this. My hair, along with my skin is combination and I have a sensitive scalp so I tend to stick with the same shampoo but I only put conditioner through the ends of my hair so I done the same with this mask. I read that it has a cooling effect so I expected a bit of a menthol smell but I didn't like this. It smells too much like men's shower gel and it's a rwally overpowering smell. Even when my hair was dry I could still smell it. The cooling effect was definitely there though and my hair does feel really soft and looks shiny so it's done the job. The full size bottle is available on Amazon for £13.99 but it's not for me.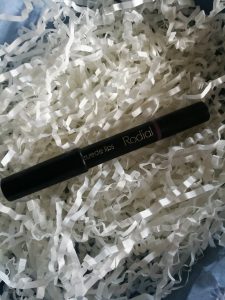 Rodial Suede Lips
I do love a lip crayon, they're so easy to apply and small to pop in your handbag. I have a small collection of lipsticks that has grown quite considerably over recent months and I find crayons the easiest for everyday use. This one is a nice berry colour, it's a good daytime shade but could be easily be worn in the evening too. It does take a bit of work to get even coverage and it doesn't seem to spread very easily. It does last pretty well but the problem I've found is that you have to remove it before you reapply otherwise it looks bitty and uneven. I wouldn't pay the retail price of £22, there are other options out there for a lot less, I will do a full review on lip crayons soon as I now have a range of different priced ones.
Batiste 2in1 Dry Shampoo and Conditioner
I LOVE Batiste and I go through a can of their dry shampoo every month. As I said above, I have combination hair; greasy roots and dry ends which means after a day the top of my hair looks a bit slick while the ends look frazzled. This dry shampoo conditioner combo didn't help with my terrible look unfortunately, it probably just enhanced it slightly. It made my roots look clean(ish) but still shiny whereas the ends look dry. Dry shampoo on its own evens the dryness out and even though it makes my hair look a little dull, at least it's a consistent look. This retails at around £4.49 which is usual for Batiste products but I will be sticking to my normal dry shampoo, which at the moment I'm loving their Rose Gold one!
Last but not least-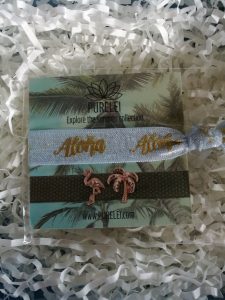 Purelei Aloha Bracelet
This is a little added freebie in this month's box and it also came with a money off voucher. It's a cute little festival style band and great if that's the look you're going for but make sure you have the wrists of a 5 year old. It is elasticated and for a 30 year old woman with the biggest man hands you have ever seen I have REALLY small wrists and this is quite tight (honestly, my 10 year old and I have almost the same size wrists). As I said, it's cute and very summery but it's not me.
Well that is my box for this month, I hope you enjoyed reading and it'll only be a couple of weeks before my next one is here!