This month was a special edition box and it was SO pretty! I keep all the special edition boxes so I'm sure this one will find a new home as something else at some point. This box was definitely a pamper one which was really nice, I actually had to take time out to try some of the products rather than fitting them in to my usual daily routine like a normally would.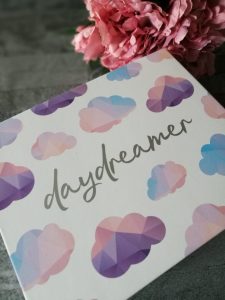 So let's just have a recap on what was in the box: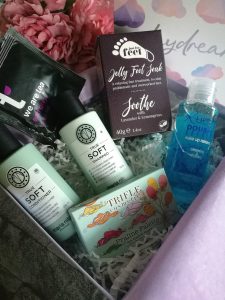 I've got to admit, I do feel a little bit cheated this month as there were technically 5 products and an "Extra treat" I feel personally that shampoo and conditioner should have come as one item as you can't have one without the other!  But I suppose a free tea bag as a treat makes up for it?! Hmmm….
Saying that, let's start with the tea shall we?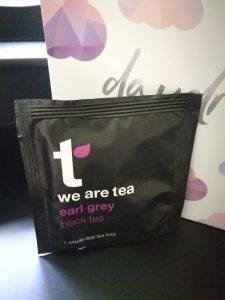 We Are Tea – Earl Grey
I am a tea fan luckily and I pretty much always have a cup in the evening, usually a fruit tea, to get me relaxed before bed. I can't remember the last time I drank Earl Grey though so I had to google whether to put milk in or not (I know, how very un-British of me). Having googled it and coming up with no definitive answer I decided no milk was best but please, feel free to comment on how you would drink it!
The flavour was nice, I have no complaints apart from the fact I only got one bag. I quite enjoyed it so would of liked more but they're £2.99 for 15 bags so I'd probably buy them again if I found them in the supermarket.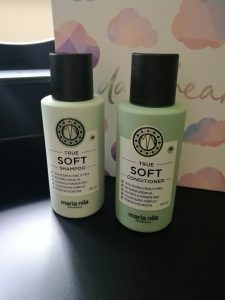 Maria Nila – True Soft Shampoo & Conditioner
Though I'm a little disappointed about these being 2 separate products I did quite like them. They are vegan friendly and sulphate and paraben free, so no nasties in there! Both are designed to leave you with stronger, softer hair and I would agree that they do. I'm really liking these more natural haircare products (see one of my latest post about a different brand here), they don't seem to irritate my scalp and they work pretty well at cleaning my hair too.
I wouldn't pay £12.98 for a full size shampoo and £13.99 for the conditioner though, not when I know there's cheaper ones out there that do the same job. It may just be me being tight but shampoo and conditioner is not a luxury to me so I won't pay over the odds for it.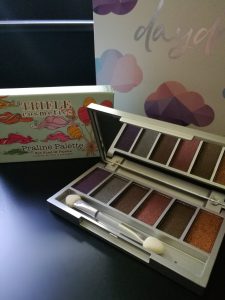 Truffle Cosmetics – Praline Palette
Another vegan product and another eyeshadow palette I wasn't overly impressed with. The colours look really nice in the palette but they aren't that vivid when you apply them.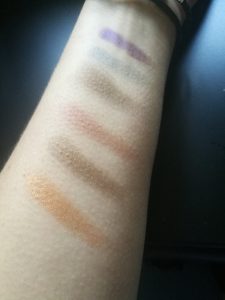 That swatch is a couple of goes over each colour and they still don't stand out too well. The silver was pretty much non-existent and I can't even remember which one was supposed to be the khaki green. They are good for a low key, everyday look I suppose and they do blend ok but I wouldn't say they were brilliant. £15.55 is ridiculous for these, save your money and go get an Urban Decay Naked palette or even better, save yourself some and go buy the Makeup Revolution ones for £4 each!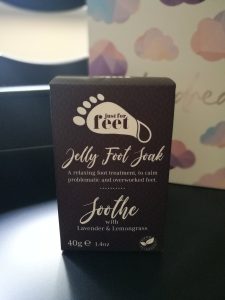 Gelspa – Just For Feet – Luxury Jelly Foot Soak
This was an odd product but a really nice one. The box has 2 sachets in, the first one you put in turns water in to a gel and then the second one turns it back to water (but leaves little jelly balls behind). It was really nice to actually sit with my feet in a bowl of warm jelly stuff while watching Gossip Girl (yes I'm very behind) on a Friday evening. The smell was lovely, a really nice, but not overpowering lavender and lemongrass small and it left my feet feeling amazingly soft! The little gel balls that were left behind felt really strange between my toes but it was somewhat therapeutic. I would probably treat myself to one of these again for £4.99 as I can waste more than that on shop bought coffee in a month and it was nice to do something different to pamper myself.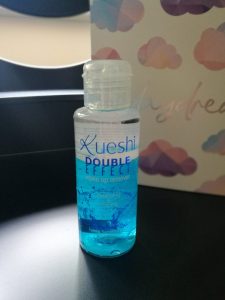 Kueshi – Facial Makeup Remover
This was another odd product; a dual layered makeup remover. I didn't actually notice the double layer when the box first arrived, I think it had got a bit shaken up in transit. You do have to shake it before use but it soon separates again as it's an oil based solution. It worked really well, even managing to remove my pretty stubborn waterproof mascara BUT…. It left my skin feeling really oily and not a nice oily like actual facial oil. I'm not sure if I didn't shake it enough maybe? I've used it a few times though and I'm still getting the same result, I feel like I have to wash it off after. At £10.50 for this little bottle it's a no from me, I'll stick to Micellar Water.
Well, that's it for this month again! I fell like I've been really negative about this box but it's the first time in over a year that I've been disappointed by Glossybox so that's not bad going overall!
There was a Limited Edition box released too this month which was a Karl Lagerfeld and Model Co crossover. It was £25 though and when I saw what was in it, I wasn't too gutted I missed out. The box itself was pretty stunning though.
If you want to get yourself a Glossybox then click here and get 20% off your first one.
Fingers crossed I like more of the products next month!