Cheats Mac and Cheese – Chef Parmalat Cooking Cream Review
I have created this Cheats Mac and Cheese recipe after being asked to review Chef Parmalat UHT cooking cream. I was gifted the product and all opinions are my own and not that of the company.
Italian food is mt favourite and even more so when it's been tinkered with by the Americans! There's just something comforting about a bowl full of creamy carbs.
When Ciao Gusto asked me to come up with a recipe using one of their many products I couldn't say no! I had a look at the multitude of different products available and I knew exactly what I was going to make… Cheats Mac and Cheese!
I received a couple of cartons of Chef UHT cooking cream. It's thick and has a really cheesy taste. It's perfect for this recipe or something like Cauliflower Cheese too. Because it's UHT it doesn't need to be refrigerated until opened which saves space.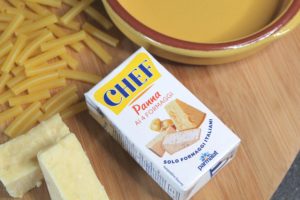 Ciao Gusto products are available from Ocado and they're now available under one handy tab.
www.ocado.com/ciaogusto
All your Italian cooking ingredients under one tab, what could be easier. You'll recognise a few of the brands under that tab I'm sure.
So for my Cheats Macaroni & Cheese I used Gluten Free macaroni. You can of course use normal pasta and the amount is exactly the same. There is a Lactose Free cooking cream available but I actually found I was OK using the cheese one.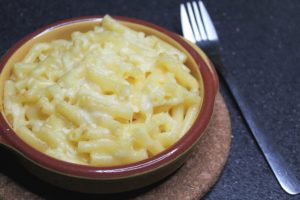 Ingredients (Makes Side for 2 or Meal for 1)
150g Macaroni
125ml Carton Of Chef Panna Al 4 Formaggi
30g Grated Cheddar
Method
Cook your Macaroni as per the instructions on the packet. Mine is gluten free as is the Chef Cooking Cream.
Drain the pasta, I then like to rinse mine with fresh boiling water to remove some of the starch. Keep the Macaroni in the saucepan and simply add the carton of Chef UHT Cream. Stir it through, making sure the pasta is completely covered.
Stir through a pinch of the grated cheese then transfer the cheesy pasta into an ovenproof dish. Pop it in a preheated oven on 180° for 10-15 minutes so the cheese on top has melted.
Viola! Easy peasy Cheats Macaroni and Cheese!
You can of course mix this up a little and add extras like crispy bacon or cauliflower. I used my Cheats Mac and Cheese in a burger after seeing the idea in a restaurant.
Let me know what you use to make Mac and Cheese in the comments below.