Loneliness In The Elderly – Lunch With My Grandma
Loneliness In The Elderly is a paid post on behalf of Welbeing. All opinions are my own.
I'm quite lucky that I have my Grandma's around still. I think I take it for granted a bit though.
My Grandma is in her late 80's and though she has her health problems, she's still one of the strongest people I know.
She lives alone and is very independent but she does struggle at times. A few years back she fell off a ladder and since then her mobility has got worse. She has got a personal Lifeline button in case of emergencies though which puts everyone's mind at rest.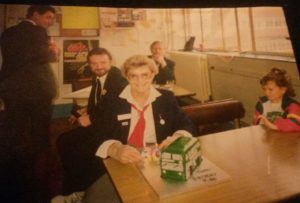 One thing her button doesn't solve though is loneliness .
Loneliness has reached epidemic levels in the UK across all generations. The rise in social media use has created a rise in social anxiety. We don't talk to strangers in the street anymore; we awkwardly avoid making eye contact with anyone.
Have you noticed that it's always the elderly that want to make random conversations? They're from a different generation. A generation where you knew your neighbours and you spoke to people in town.
My Grandma loves a chat and I do hate the idea that she could be lonely. Life gets in the way so often though and before I know it months will have passed since I last saw her. My Dad takes her shopping every week and she does venture out of the house quite a bit so I know she gets to see people. I do feel bad that I don't go round enough though.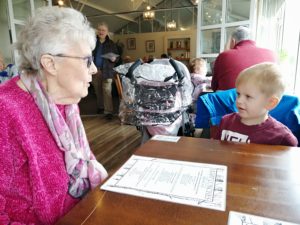 This said, I decided to take her out for lunch. The toddler and I decided on a local garden centre knowing she'd love to have a wander as well as some food.
The toddler was actually in a good mood for a change! You can read about his perfect week HERE! We headed off in the car to go and pick her up for her afternoon treat.
She was so eager to get out, waiting near the window for us to arrive.
She got in the car and off we went. One bonus of taking the Grandmother out is the blue badge! Space right outside the door of the garden centre: Thank you very much!
It was lovely to be sat in the company of 3 out of 4 generations. The toddler was well behaved and so was my Grandma! She has a habit of swearing quite a lot and had already commented on the fact she would have to watch her language with little man around. But we managed a lovely lunch with no swearing and no tantrums.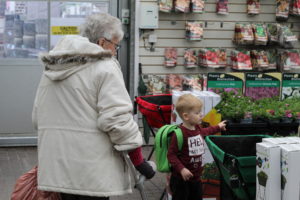 We sat reminiscing of sleepovers from when I was younger. She was coming out with things I don't remember happening! Apparently one night, my cousin and I decided we were too old to be sleeping in the same room as our siblings. So went off and set up camp in my Grandma's conservatory. We moved one of the cat's beds and a dead mouse fell out. That was the end of our more grown up sleepover.
The stories my Grandma has are amazing at times. She will tell you about growing up in London and her parent's grocery shop. About being evacuated during the war and then about her travels around the world. I mentioned that little man was learning the Russian Alphabet and she recalled about how she nearly got stuck in Russia as she lost her travel papers! I didn't even know she'd been to Russia.
The woman is amazing and I love hearing about her life. There's so much I still don't know about where she's been and the things she's done. But I can also tell people her stories about hitch-hiking in New Zealand (which is illegal) and going rollerskating for her 70th birthday.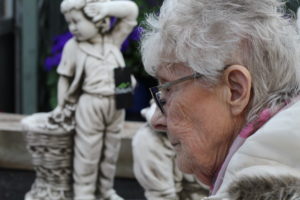 We had a lovely little stroll around the garden centre, looking at the plants and ornaments. I was told when we arrived that I was to stop her from buying cushions but that didn't stop her from treating us! I came away with a mini cacti and a pot of caramelised onion chutney and little man had a small dragon ornament for the garden. What is it with Grandma's and treats?
It was just so lovely watching Great-Grandma with Great-Grandson. Leading each other down different isles of plants and chatting away to each other. I remember very little about my great-grandma and the memories I do have are of her in a care home, so not the greatest thing. The main thing I remember was the smell.
I love how independent my Grandma is and how happy our afternoon out had made her. It was lovely to see her smiling when we dropped her home again. She had had enough food to keep her going for the rest of the afternoon and had stretched her legs. She was off for a nap! (It's surprising how alike toddlers and the elderly actually are!)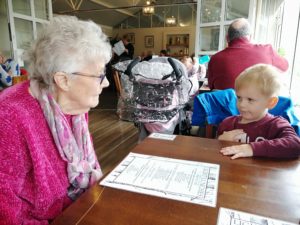 We drove away knowing we'd made her day. It's nice to know something so simple can make such a difference. It's also nice to know she's safe and sound in her own home and she has that personal alarm button just in case anything was to happen. Safe to say she has been banned from climbing ladders now! We have discussed our next lunch out and apparently she's treating us.
If you want to look at getting your loved one a Lifeline Pendant then head over to their website to find out more: https://www.welbeing.org.uk/
Or you can find their social media pages at
https://www.facebook.com/welbeingtelecare
Let's not let the elderly be forgotten about. They are the reason we are here and they have some wonderful stories. We will be them one day and we will appreciate a visit every so often. Or even just a conversation with a total stranger. Let's not let loneliness win.