Chicken, Bacon and Leek Pot Pie
Pie is ultimate comfort food in my eyes. There's just something about it that reminds me of wintery, cold evenings.
Since I began eating healthy 3 years ago, I've not often had pie as having pastry is just unheard of! How many calories?! And then, since finding out I have an issue with Gluten last year, I've had 1 pie. And I will say, it was the worst thing I've ever eaten.
Because of this dreadful experience and sticking with healthy eating, I decided to make my own recipe. This chicken, bacon and leek pot pie seemed like a good one! Full of plenty of veggies and actually quite easy to do. You can use as much or as little pastry as you want to save on calories or even leave it out completely! The filling is yummy enough on its own.
This recipe is gluten free if you use the correct pastry.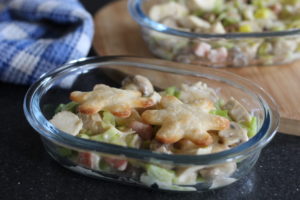 Ingredients (makes 2 pies)
2 chicken breasts (roughly 150g each)
1 medium Leek
75g of button mushrooms
200ml of semi-skimmed milk
1 thick rasher of smoked bacon (fat removed)
a bay leaf
1 tsp onion granules
1/2 tbsp of corn flour
Pinch of pepper
Ready rolled puff pastry (gluten free or normal)
Method
Start by adding the milk, onion granules and bay leaf to a small saucepan. It needs to be small enough that you can fit the chicken breasts in but will be able to cover them in the milk.
Add the chicken breasts to the milk and bring to a simmer for 15-20 minutes. Once the chicken has cooked, remove it from the milk and set both the chicken and milk aside.
While the chicken is cooking slice you leek, halve your mushrooms and cube your bacon.
Warm a frying pan over a medium heat and spray lightly with cooking spray.
Add the bacon to the pan and fry until cooked through. Next, add the mushrooms and give them a minute to cook before adding the leeks.
Cook the bacon and veg mix for around 3 minutes until the leeks have softened. While they're cooking, cut up the chicken into bite sized pieces. Add them to the pan with everything else.
Sprinkle on the cornflour and a pinch of black pepper and give it all a good mix.
Next, you need to strain the milk from the saucepan that you set aside into the pan with the meat and veg.
The milk will thicken quite quickly and turn into your sauce. If it goes too dry then add a drop more milk or a splash of water. Once you're done, remove from the heat and spoon the mixture into single pie dishes.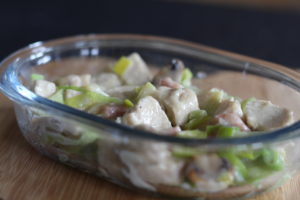 Cut out your pastry top from the ready-made pastry and place on top of the filling. Brush the top with a little extra milk.
Bake in the oven as directed on the pastry packaging which is usually around 15 minutes. Once the pasty has browned, remove from the oven and serve with the side of your choice.
Enjoy!