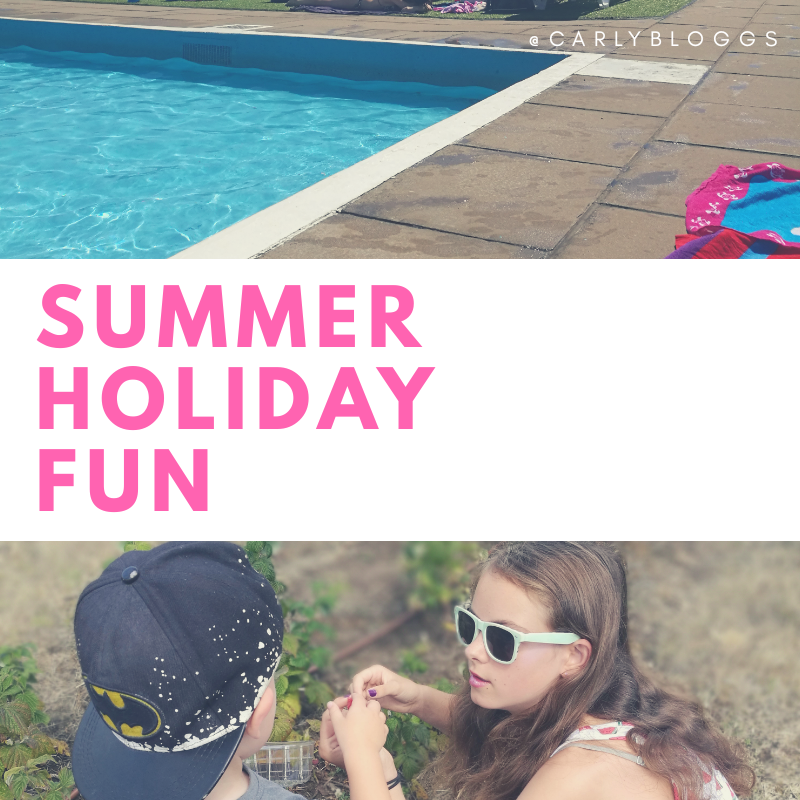 It's been a while since I've done a post in Kiddies, mainly because we never really get up to anything overly interesting but it's the summer so I thought I'd better make some Summer Holiday Fun!
Last week I had the week off work which was lovely but it is hard to keep 2 kids of completely different ages entertained on a budget. So here's a little diary of what we've been up to.
Monday was rainy and windy (a typical start to the summer holidays!) so we had a day at home and watched a film (The Greatest Showman to be exact).
Tuesday, we couldn't quite decide what to do. The weather was ok but everything was still damp thanks to the amount of rain we had the day before. I had a little Google and found a local fruit farm that does raspberry picking. The toddler doesn't eat strawberries so there was no point going to a strawberry patch but both little miss and I love raspberries so we knew they'd get eaten and I thought there would be a better chance of getting the toddler to eat them!
I wasn't sure if he was going to be too heavy handed to pick them himself but actually he done really well! He soon picked up on which ones he can pick and what ones to leave alone and he only caught himself on the spiky bits a couple of times but raspberries aren't as spiky as blackberries so no blood was drawn!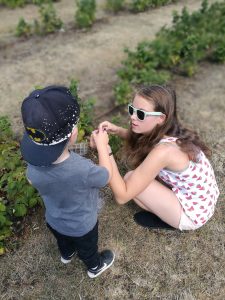 It cost about £2 for the raspberries we picked, so cheaper than a small punnet from Tesco but we came away with easily double the amount and it kept us entertained for an hour! I'd definitely recommend fruit picking and Park Fruit Farm in Essex is a little hidden gem. Check out their website HERE
On Wednesday we had a proper day out, me, my two, my sister and my niece. We have an open air swimming pool a short drive away in Brightlingsea so we decided to get there for opening at 11 and spend the day. It was lucky we decided to go early as the queue was huge! We just about got in and found space by the little pool to set ourselves up for the day. We just missed out on hiring sunbeds as they only have a certain amount but at £2 for the day I'm not surprised they disappear quick. It cost £14 for entry for all 5 of us, which really isn't bad given it was a whole day with no time limit. There is a small shop on site which offers food and drinks and isn't badly priced either.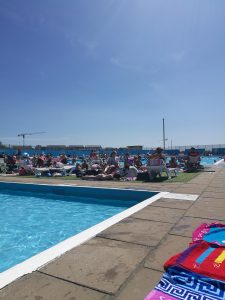 It is a cold water pool so the main, big pool is quite chilly!! Once you're in and swimming about it's not too bad though and the girls had great fun. Even better is you can take inflatables in which isn't a done thing in most pools around here. There is also a kiddie pool which is huge in comparison to most toddler pools. The water only came to halfway up my shins but was much warmer than the main pool!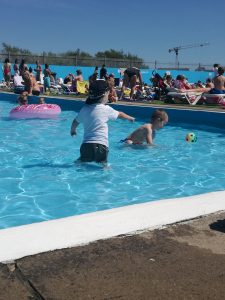 We will definitely be visiting again soon! There website is HERE if you want more information.
Thursday was a day at home with a difference. It was our next door neighbours 9th birthday and out the front we have a small green that had a MASSIVE bouncy castle set up on it.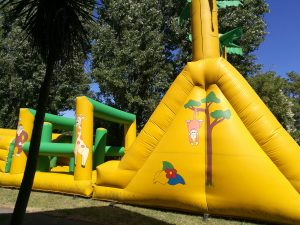 It went up about 9am and immediately we had a knock on the door and "can they come and play?" My daughter was still in bed! She soon got herself sorted though and we headed outside to play. I had considered just leaving the kids to it and getting on with some housework but I ended up spending all day out there chatting with the neighbours and having fun. We were outside till gone 10pm (including the toddler) and it was lovely! We're lucky to have a little community in our road, we actually speak to all our neighbours around the green which is unheard of a lot of the time these days! We've decided we'll have to organise something like that again and maybe all pitch in for a smaller bouncy castle for the day and do a BBQ between us.
Friday was a lazy day, we were all quite tired from the weeks antics so spent the morning lazing around then just spent the afternoon at my parents house as we haven't seen them in a week!
Then before we knew it it was the weekend and we spent it at home getting the garden looking better again as it's been a little neglected the past few weeks. Little Miss went off to London for the day on Saturday with my Mum and Sister so we were down to 3 and Little Man was still quite tired from the week's activities so no one wants to do a day out with a stroppy toddler! We did pop to the shops on Sunday and started the Back To School shopping for Little Miss! (B&M is ace by the way!)
That was also the end of my week off sadly. It's been great fun though and I couldn't have asked for a better way to spend a week with the kids. Well, apart from if the OH had been off too…
I do have some more time off at the end of August but we already have plans for that.
I hope you enjoyed reading and maybe this gave you an idea of something to do with your children. If you have any other ideas of cheap outings then please let me know in the comments. It is hard to keep them entertained for a whole 6 weeks! Roll on September!