Calorie Counting Scales Review – Stellar Kitchenware
Calorie counting scales sound like a dream! But are they worth their weight? (See what I did there?) I got given the opportunity to find out!
I stopped following a particular diet plan over 6 months ago now. You can read why HERE. I've put on a little bit of weight again but I'm not overly bothered. I do manage to maintain and lose a bit of weight when I want to, but I do it through calorie counting.
There's a lot more flexibility with calorie counting and it just makes sense! Don't get me wrong, the diet plan worked but I don't think it's maintainable in the long run. It's still quite restrictive.
As long as you can maintain a calorie deficit then there's no reason you can't lose weight. It's making sure you do have a deficit that's the hard bit!
There are plenty of apps that you can track your calories on but it can be a bit of a faff weighing everything when you cook from fresh. These Stellar Kitchenware, calorie counting scales are designed to take away the guessing that a lot of us do.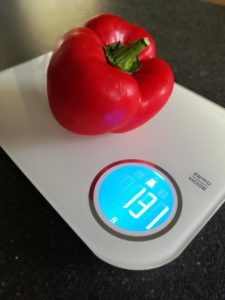 I always take a rough guess when I'm doing vegetables. Come on, everyone does! Don't they?
Calorie Counting Scales – Design
I love the design of these Bluetooth calorie counting scales. They're small enough for easy storage and they're wipe clean. The screen is easily readable too. My only concern is that they are auto switch on/off and I feel they turn on a little too easily. I put a loaf of bread down next to them on the work surface and they lit up. I feel this will drain the battery quicker than necessary. They take 2 AAA batteries so at least they're not expensive to replace.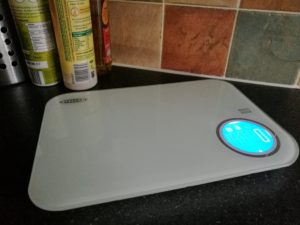 Calorie Counting Scales – Ease of Use
These can of course be used as regular kitchen scales. To make them calorie counting is quite simple. You download an app called Modern Chef to your mobile which syncs to the scales. This is such a simple process, it's a case of pressing one button. There aren't really any instructions on how the app works with the scales but it's quite easy to work out.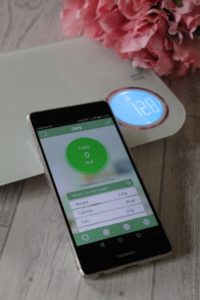 It's very similar to the MFP app which is what I currently use. There's a Diary section where you can record your food intake for the day. You can't record your weight and goals though from what I can see. It does recommend your daily calorie intake to maintain which is good!
The scales themselves are easy to operate. You move them slightly and they'll switch on. You then place your food stuff on the scale and search for it on the app. Once you've found what you're weighing you just press the tick to add them to today's food diary. You can easily reset them to 0 too when putting more than one thing in a bowl.
The one issue I have is with the app and not the actual scales. I feel the database of foodstuffs needs work.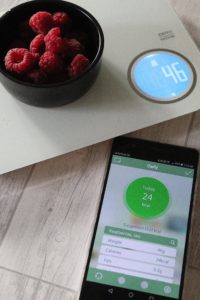 It's fantastic if you are using just fresh products but even with meats the selection is limited. I tried weighing out a homemade burger but struggled to find the mince I was using.
There is the option to add your own products though. I done it with a gluten free bread roll quite easily on my first use. It can be a lot of faff if you're in a rush but once you've done it once the item is saved. It's worth adding a load of things you regularly use such as cereals in one go.
These calorie counting scales weigh milk and other liquid which I feel is a fantastic feature! I hate measuring out milk to put on my cereal. It's a waste of time, I know how much milk I like and it made life easier to just pop the bowl of cereal on the scales and pour away. The app then tells me how many calories I've used!
Calorie Counting Scales – Overall Thoughts
I do really like the scales! They look great, they're easy to use and they've taken the guess work out of calorie counting. I have found that my guessing was quite far out! I do think the app could be better or even link up with MFP, which would be incredible.
Being able to add a particular food to the database is great, It's just a tad time consuming initially.
I have been using both MFP and the Modern Chef app together which has made me a lot more accurate. I'm definitely hoping for a good loss this week!
I will continue to use them no matter what, I'm in love with the design anyway! What they are capable of doing is an added bonus.
If you want to get yourself a set of these scales then you can find them by clicking HERE *This post may contain affiliate links which I may earn some pennies from. Please support bloggers and keep us going by using our links.