This was a slightly experimental lunch but it turned out to be a success! Which is always a bonus.
I love a Pot Noodle style thing but this is a great way of getting more vegetables in your system. Also, it's more filling than a shop bought one as it contains actual protein!
I have recently adapted this recipe as I wrote it pre-gluten free. I use dried Rice Noodles instead of egg ones and a gluten free alternative to soy sauce.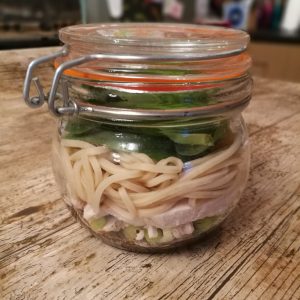 You don't necessarily need to make these in a jar, if you're taking them out and about with you you'll need something with a tight seal on it though as there is some liquid added before you "just add water". I luckily wrapped my jar in a plastic bag the other day… Apparently my jars are not completely airtight!
Ingredients
One Noodle Nest
Sliced Chicken
2 Spring Onions
1 Closed Cup Mushroom
Handful of Spinach Leaves
Half a Reduced Salt Vegetable Stock Cube
1 Tbsp of Soy Sauce
A Pinch of Chinese 5 Spice
Method
Cook your noodles as the packaging suggests, (or if using dried rice noodles then you can skip this step as they cook in boiled water.) drain then keep to one side in some cold water.
Thinly slice your mushroom, I only used one as it was on the larger side but you can use more if you want. Then slice your spring onions.
Crumble the stock cube into the bottom of your jar then add the soy sauce and Chinese 5 spice. On top of this add a layer of spring onions and mushrooms then layer your chicken on top of that.
Slightly dry off your noodles on some kitchen towel then add them to the jar. I would suggest cutting them up slightly as leaving them long did make quite a mess at my desk! If you are using dried rice noodles then just add them straight to the jar at this point.
Add the spinach on top then seal the jar and pop it in the fridge until needed. When you are ready, add some boiling water and stir. I added just enough water to cover the noodles, but you can make it to your taste.
Close the lid on the jar and leave for 5 minutes so everything can warm through. Stir and then eat!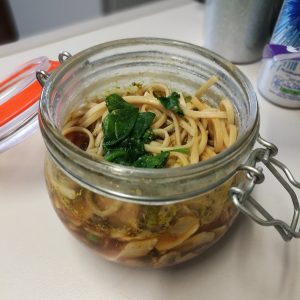 It did make such an easy, tasty lunch and it only took 10 minutes to prepare the night before!
Enjoy!
Liked this recipe? Leave me a comment and let me know. If you want to save it for later then why not Pin the image below.